Alabama's lakes offer a unique and magical experience for people looking to get to know the Yellowhammer State. From sprawling acres of crystal-clear waters to endless, scenic shorelines, Alabama's lakes alongside our boat rentals provide endless exploration, relaxation, and adventure opportunities! To help you make the most of your Alabama trip, we've created a quick guide on five of the best lakes in Alabama for boating:
Guntersville Lake
Lake Martin
Lay Lake
Lewis Smith Lake
Lake Weiss
Top Alabama Boat Rentals available today— Browse now!
1. Guntersville Lake
As Alabama's largest lake, Guntersville Lake is a must for visiting boaters. Watersports like wakeboarding, water skiing, and tubing are popular here. Or, if you're just looking for a calm cruise across the 69,000 acres of open freshwater, you can sit back, relax, and enjoy the scenery of mountains, forests, and wildlife (including Bald Eagles), all from the comfort of your vessel.
Since this is a popular destination in Alabama, there's much to explore on shore: from hiking to lodging and dining!
Anglers can expect to catch largemouth bass, crappie, and catfish.
Location: Jackson and Marshall counties
Explore Guntersville Boat Rentals
2. Lake Martin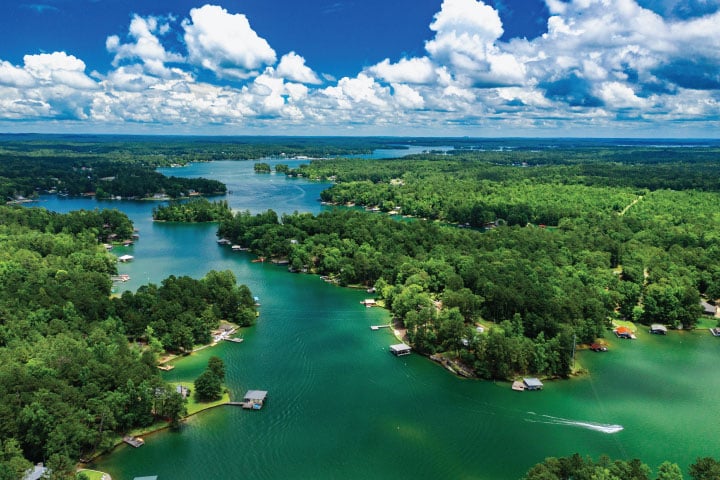 Since Lake Martin is manmade, it's one of the cleanest lakes in Alabama, making it a favorite for swimmers and divers. Boaters love to hang out at Acapulco Rock Island and Chimney Rock Island to jump from the short cliffs into the water. Since clean water equals clear water, Lake Martin is also a great spot to anchor and dive under the surface for some snorkeling.
Anglers can expect to catch various species of bass and catfish, and white crappie.
Location: Coosa, Elmore, and Tallapoosa counties.
Explore Lake Martin Boat Rentals
3. Lay Lake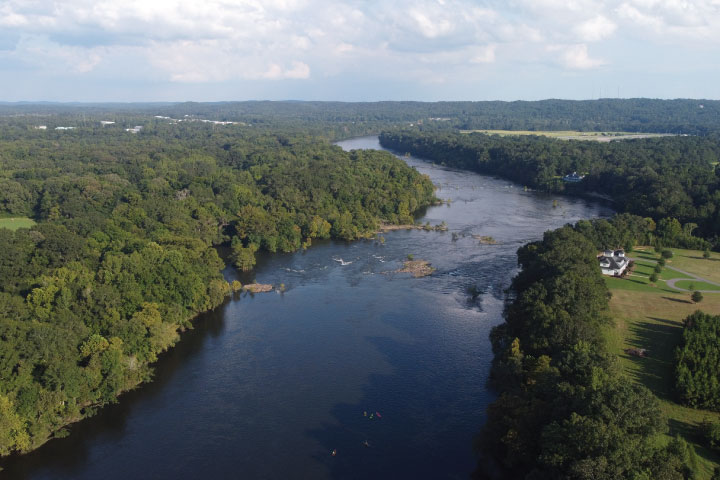 You'll find Lay Lake, located just 35 minutes outside of Birmingham, on the Coosa River. Anglers flock to Lay Lake for its excellent bass fishing. The surrounding shoreline hosts various parks and campgrounds where visitors can connect with nature. Oak Mountain State Park specifically offers beautiful views of the area's wildlife and the lake itself.
After a day of watersports, fishing, or lake lounging, cruise into Paradise Cove, where you can dock and dine at the Point Grill & Bar. They serve typical American fare and have an outdoor READ MORE:  Pre-Departure Checklist for Boating
4. Lewis Smith Lake
Lewis Smith Lake, also known as the "three-fingered lake," is a popular holiday destination in Alabama. As another reservoir, the lake holds beautiful crystal water, perfect for swimmers and divers. Anglers can catch various species here, but bass is the main attraction, drawing out crowds for multiple fishing tournaments throughout the year.
In addition to water sports and activities, the coastline hosts various campgrounds and hiking trails. Cruise, connect with nature, and dock and dine at many waterfront restaurants, all when you visit Lewis Smith Lake in Alabama.
Location: On the Sipsey Fork of the Black Warrior River, in the foothills of the Appalachian Mountains.
5. Weiss Lake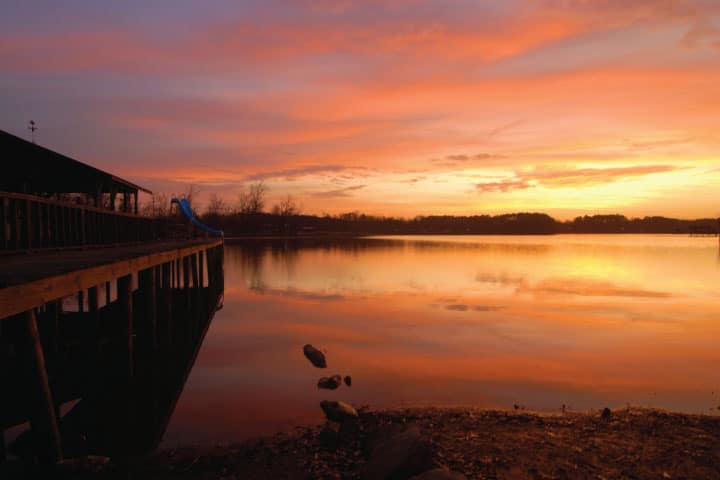 Anglers can find the "crappie capital of the world" tucked up in northeast Alabama when they visit Weiss Lake. Weiss Lake earned this nickname for its typically larger and more abundant crappie populations due to some of the lake's unique environmental factors. In addition to various crappie and bass species, anglers can expect to catch longear, sunfish, bluegill, catfish, and freshwater drum.
While Weiss Lake in Alabama is popular for fishing, the surrounding wilderness creates a beautiful setting for visitors to connect with nature. Enjoy scenic hiking (the Cherokee Rock Village is a must!) and camping when you come all Alabama boat rentals and take advantage of neat trip planning tools like Instant Book and Add-ons. Whether you're looking to have your family fun day on the water, make a trophy catch, or simply cruise and admire nature, there's no doubt that the best way to experience Alabama lakes is by boat!
About us
Boatsetter is a unique boat-sharing platform that gives everyone — whether you own a boat or you're just renting — the chance to experience life on the water. You can list a boat, book a boat, or make money as a captain.
Put your boat to work. Earn an avg. of $20K yearly with Boatsetter