Washington, D.C. became our nation's capital partially because, in our country's early days, commercial and even leisure travel typically took place by the water. DC's navigable waters— rivers, streams, canals, and sea(s)— continue to be used, however, today, more recreationally.
We love DC for its diversity in experiences, history, and beauty, and want to share with you the best water activities to be had in Washington, D.C.:
Post summary:
Best places to explore by boat in Washington, D.C.
Fishing in Washington, D.C.
Sights to see from the water in Washington, D.C.
Read all the way through to catch key Pro Tips on boating in DC.
Explore available Washington, D.C. Boat Rentals
Best places to explore by boat in Washington, D.C.
There are so many bodies of water to explore in Washington, D.C., and the greater area; you might find trouble creating an itinerary that captures all your choice spots. Luckily for you, all waters connect, so getting to one place from the other is easy; all you need is a boat rental!
Potomac River
The Potomac River is one of the best places to explore in Washington, D.C., as it takes you right through the city's heart, beginning in West Virginia. You can see many of DC's important buildings and monuments from this river. In addition to those, though, there are other very cool places you'll want to dock at!
Dock at the Wharf, a modern waterfront marina with food trucks, a picnic table, and good music! You shouldn't have trouble finding where to dock, as this marina holds more than 300 slips (for boats up to 300 feet long). Besides the incredible food, there are many typical marina amenities like ATMs, pump outs, boat shops, and more to enjoy here.
Views to look out for while cruising down the Potomac River:
Fletcher's Park
The Potomac Tributary Waterfall
Georgetown Waterfront Park
Roosevelt Island Park
Lincoln Memorial
The Thomas Jefferson Memorial
The Navy Merchant Marine Memorial
The Martin Luther King Jr. Memorial
East Potomac Park
Daingerfield Island
Not to mention, if you're here during the last week of March or the first week of April, you'll see stunning cherry blossoms in full bloom.
Patuxent River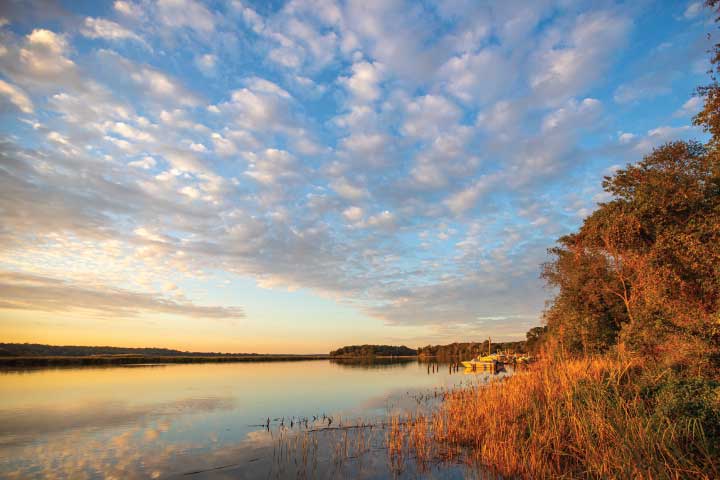 Patuxent River runs through DC and Baltimore, making this destination a double whammy. If you're looking to get away from city life and explore the more natural side of Washington, D.C., Patuxent River would be your ideal destination. These waters run through wetland sanctuaries, wildlife sanctuaries, protected natural areas, parks, and more. You'll notice these clear waters teeming with fish (about 100 species) and precious aquatic flora.
Bald eagles, hawks, falcons, and various songbirds are not rare sights in the area. Look up, and embrace all the nature around you.
Chesapeake Bay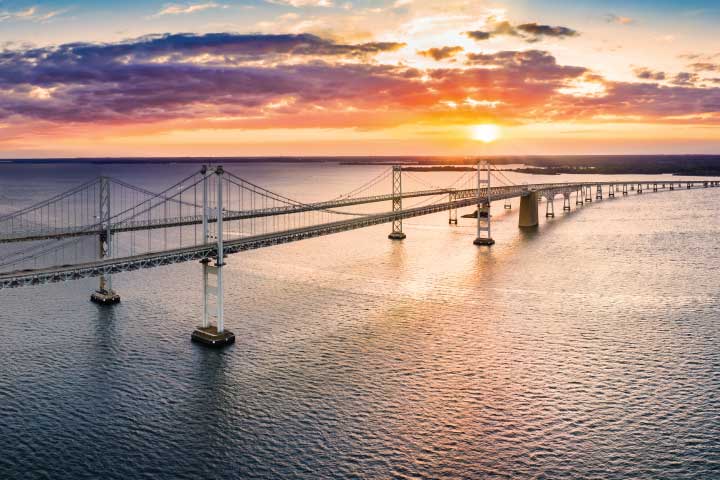 Chesapeake Bay is a ninety-minute drive southeast of Washington, D.C., it is the largest estuary in the US, and one of the HOTTEST on-water travel destinations on the East Coast! You'll see boaters cruising by with sailboats like catamarans and even yachts.
You'll discover countless islands, coves, rivers, and nearby small bays here too. The center of the bay is the best area for those looking to put their watersports skills to the test; otherwise, you have 4,479 square miles to enjoy leisurely.
Chesapeake & Ohio Canal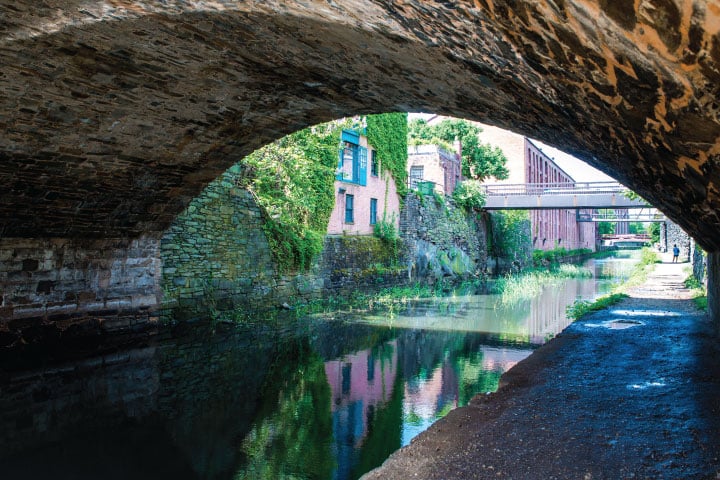 Chesapeake and Ohio Canal, also known as the C&O Canal, is 184.5 miles of adventure! It was dug out in 1825 to facilitate transportation between Washington, D.C., and Cumberland, Maryland. Mostly, this site remains as it was between 1831 and 1925. There are many historical, natural, and recreational treasures for you and your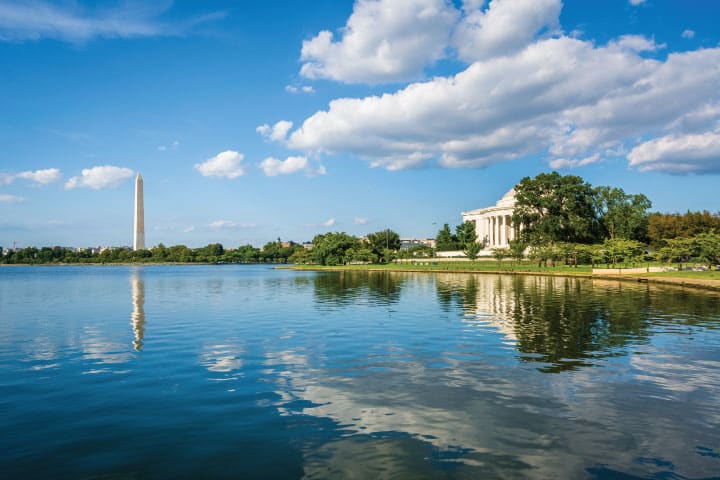 The 106-acre Tidal Basin is by the Thomas Jefferson Memorial; between the Potomac River and the Washington Channel. You can fish on the shores of the Tidal Basin, or you may fish the Potomac River from the West Potomac River Park.
In this area, you're most likely to catch blue catfish, channel catfish, common carp, striped bass, northern snakehead, and largemouth bass.
Keep in mind, the Tidal Basin is only about ten feet deep and was built to flush sediment and silt from the Washington Channel, so make sure to pack tackle and gear accordingly.
Pro Tip: Tidal Basin is handicap accessible and easy for children to use, plus it has a few trails, scenic picnic areas, ample parking, and several bank fishing opportunities!
East Potomac Park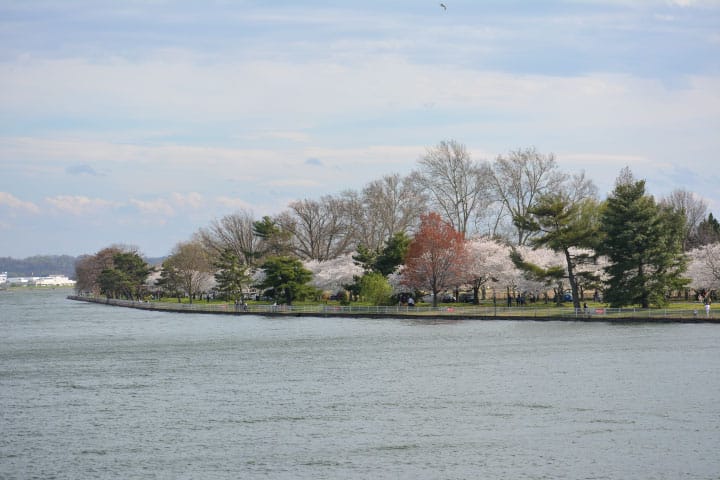 East Potomac Park is a 395-acre triangular park just south of the 14th Street Bridge and a few blocks south of the heart of Washington, D.C. The most common fish species are channel catfish, striped bass, blue catfish, bluegill, northern snakehead, smallmouth bass, and largemouth bass.
Hains Point is the best spot in the park to launch your boat rental. It's near the playground (great if you have kids in tow) and a picnic area. Hais Point gives you access to the convergence of the Potomac River, Anacostia River, Georgetown Channel, and the Washington Channel.
Constitution Gardens Pond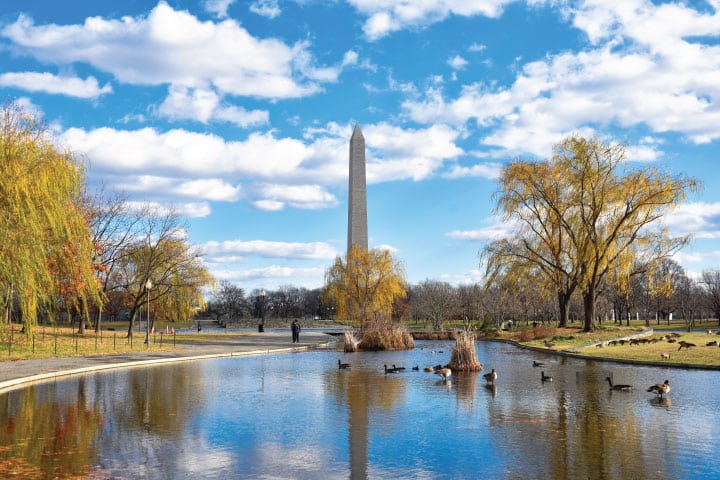 This almost-seven-acre pond may be the best spot for catch-and-release fishing simply because the water is so much cleaner and clearer than the nearby DC Rivers. If you stand still for a moment, you'll notice the water is clear enough to spot fish and pick the best place to cast.
You may catch carp, but largemouth bass is the most predominant species here.
Things to consider when fishing in DC
Whether you're a DC resident or just visiting, you'll need a District of Columbia Fishing License. These are easily obtained through this DC Department of Energy and Environment page!
If you catch a Northern Snakehead (Channa Argus), remove the DC's fish consumption advisory. The quality has improved, but it is not ideal just yet. It is a "limited consumption" advisory and not an outright ban. Oh! And be on the lookout for fishing list a boat, book a boat, or make money as a captain.
Put your boat to work. Earn an avg. of $20K yearly with Boatsetter