Marco Island is a gorgeous barrier island touching the Gulf of Mexico and famous Florida destinations such as the Everglades, Naples, St. Petersburg, Tampa Bay, and precious, lesser-known locations such as the Ten Thousand Islands (see below). By car, getting to know each of them may seem impossible to do within a day, a weekend, or ever. Luckily for you, we've got boats! Check out our latest boating guide to Marco Island.
Post summary:
Locations to boat around the Marco Island area
Marco Island boating rules & regulations
Marco Island marinas & more insider content
View all available Marco Island boat rentals
Locations to Boat to Around the Marco Island Area
With Naples, St. Petersburg, and Tampa Bay nearby, Marco Island presents a wonderful opportunity for passersby to see a lot.
Barfield Bay
Barfield Bay is on the southeast side of Marco Island. The west side of the bay has private docks and residences. In contrast, the east and southeastern side is much wilder and untamed, with uninhabited forested keys, such as David Key, Pig Key, Pass Key, Alpha Key, Beta Key, Little Tide Key, Fred Key, Margaret Key, Currys Key, Henry Key, and Helen Key.
It's a neat experience to boat around these islands to explore the shorelines (if your boat isn't too large and the tide isn't too low) and see all the raw beauty they offer.
It's also interesting to see the south side of the island. There are gorgeous oceanside estates here that are beautiful to look at. If you enjoy the home exterior tour, consider boating into Robert's Bay and Smokehouse Creek for a better view of these residential areas.
Rookery Bay & Ten Thousand Islands
The Rookery Bay National Estuarine Research Reserve, located on the south end of Marco Island, has 110,000 acres of pristine mangrove forest, uplands, and protected waters. This body of water is home to Ten Thousand Island, where there is plenty to explore by boat!
Ten Thousand Islands is made up of precious keys and micro islands. You'll want to stick around West Morgan Key, where you have Morgan Beach and Kice Island (for boat camping).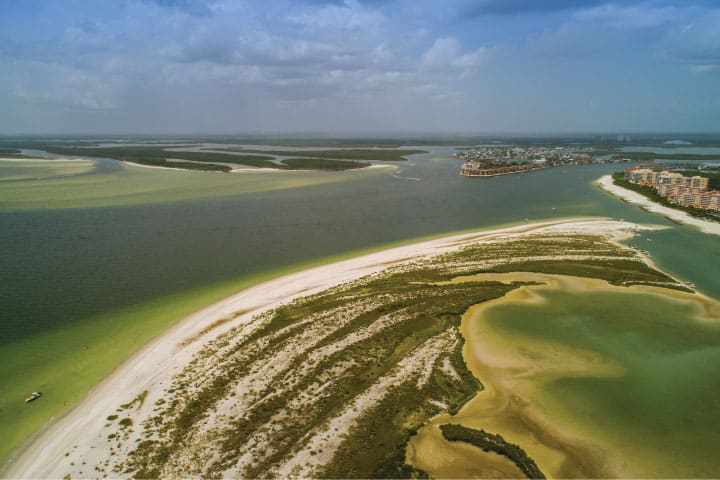 READ MORE: 8 Tips for a Successful Boat Camping Trip
Next to it is Ten Thousand Islands National Wildlife Refuge (35,00 acres), a chain of public and remote islands as well as inlets and keys. Man has left the mangrove habitats, marine life, and native wildlife mostly untouched.
The best way to explore this piece of paradise is by boat. If you want to camp on your boat or anchor your boat on an island to camp Boating by Marco Beach will give you great views of the Gulf of Mexico and Marco Island itself. The beach and Marco Island, the "skyline" of luxury homes, hotels, and marinas, are beautiful. Near the shore, the water is turquoise blue, and the further you venture away from the island, the richer and more emerald green the hue of the water becomes.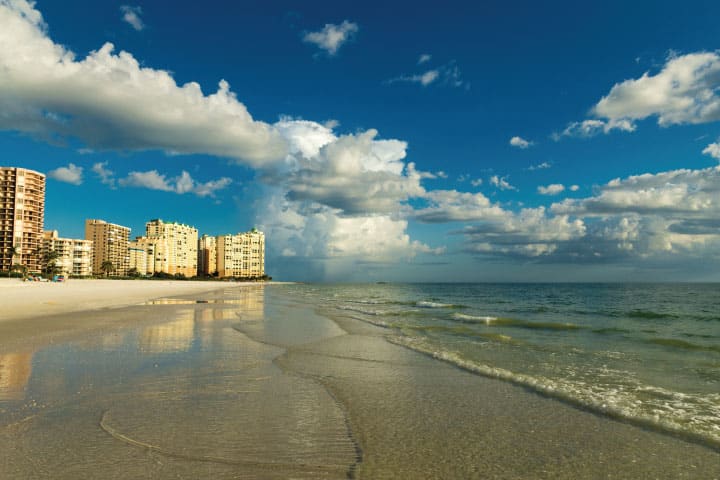 Collier Bay
Collier Bay is on the island's north side, near North Point. It leads into Smokehouse Bay and several marinas and country clubs. This bay provides views of forested wilderness areas (on the north side of the bay), private luxury estates, dockside restaurants, and fancy marinas.
While here, these are some of the best waterside restaurants to try:
CJ's on the Bay
Mango's Dockside Bistro
Dolphin Tiki Bar and Grill
Old Marco Pub
Zaza Mexican Restaurant
Marco Island Marinas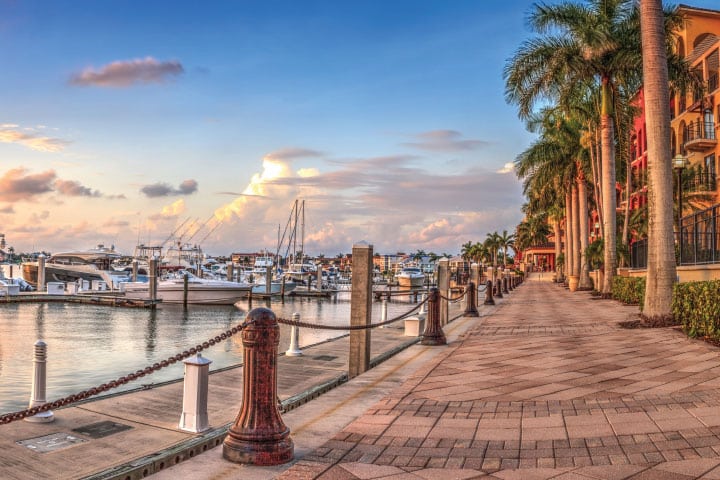 Marina at Factory Bay
As the name indicates, this Marina is on the southeast tip of Marco Island, right on Factory Bay. It's in the Olde Marco Historic Village and offers lots of shopping and dining opportunities in all directions, plus it's only a mile away from downtown Marco Island. It has 72 wet slips available, ranging in various sizes.
Address: 1081 Bald Eagle Dr, Marco Island, FL 34145
Slips: 72 wet slips
Features:  WiFi, restaurants within walking distance, restrooms with showers
Pelican Pier Marina
Pelican Pier Marina is just a few properties north of Marina at Factory Bay. It offers the same great access to shopping, dining, and downtown. Plus, it has a surprisingly well-stocked convenience store that's right on the water. It offers marine gas, live and frozen bait, light tackle, food, snacks, alcohol, other drinks, and anything you could need for your boat.
Address: 1085 Bald Eagle Dr, Marco Island, FL 34145
Slips: Contact for more information
Features: Bait, concessions store onsite, food, and gas
If you're ready to visit Marco Island by boat, you should reserve your boat and a captain (if you want one) as soon as possible. Are you not quite sure about it yet? Check out these handy guides we created to cover the Marco Island area:
Explore water-travel destinations! Find your next trip at Destination Guides and other boating resources here.
Fishing in the Gulf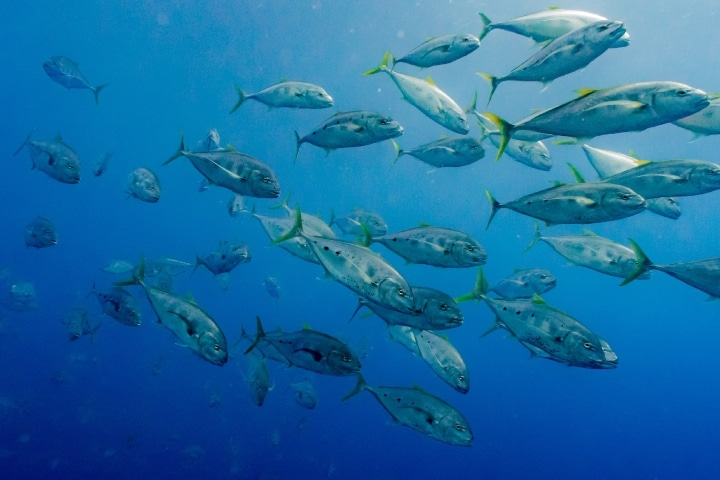 Another popular Marco Island boating activity is fishing. Whether you're an experienced angler or a novice, fishing in Marco Island is a great way to enjoy the water and maybe even catch dinner! (If you don't know how to prepare your own fresh catch, there are plenty of restaurants that can do it for you if you call ahead).
Along this southeastern section of the Gulf, you're likely to catch snook, trout, redfish, tarpon, snapper, grouper, kingfish, and amberjack!
Here's a list of some of Marco Island's best fishing spots:
Ten Thousand Islands:

offers a nice variety between the mangrove islands and shallow oyster bars

Caxambas Pass:

a main waterway between Marco Island and the Gulf of Mexico

Keewaydin Island:

only accessible by boat, which offers a level of exclusivity

Rookery Bay:

known for a quieter experience 

The Naples Pier:

where the Gulf of Mexico and Naples Bay converge, offering a variety of species

The artificial reefs

offshore of Marco Island: best spot to find amberjack
Pro Tip: How long does it take to boat from Naples to Marco Island? 
Naples is the primary mainland location close to Marco Island. If you're planning to boat from Naples to Marco Island, it'll take close to 1.6 hours, depending on your departure and arrival locations and speed. The distance is approximately 8 nautical miles.
Marco Island Boating Rules & Regulations
For more information on boating laws, visit City of Marco Island online or Florida Fish & Wildlife Conservation Commission. Also, if you're interested in learning how to boat starting at zero ground, sign up for a boating course with Boatsetter Academy.
One class takes up to two hours. Boatsetter Academy classes are at the boating course near you!
You must idle when in bays, canals, within 500 feet of the shore or beaches, and when within 500 feet of a seawall. These are no here. This is pertinent because you will probably have to go under at least three bridges when visiting Marco Island.
About us
Boatsetter is a unique boat-sharing platform that gives everyone — whether you own a boat or you're just renting — the chance to experience life on the water. You can list a boat, book a boat, or make money as a captain.
List your boat and start earning an avg. of $20K yearly with Boatsetter