St. Petersburg is a stunning city on the western side of Florida, overlooking Tampa Bay and the Gulf of Mexico. It has some of the best water, beaches, and culture in the nation and should be high on your priority list as a boating enthusiast. Here are some of the best watersports to enjoy while here, where to visit, and what to do. Let's talk about it!
St. Pete Watersports
Snorkeling & scuba diving in St. Petersburg
Sightseeing in St. Pete
Explore all Boat Rentals in St. Petersburg
St. Pete Watersports
There is plenty of surface area over the waters of St Peterburg for watersports of all types. Check out any activities you'd like to do during your boat trip below:
Parasailing
Soar three hundred feet over the ocean while being towed behind a speed boat. You can parasail alone or ride with one or two other people. You'll have some of the best views of St. Petersburg, the Gulf of Mexico, and the coastline from your vantage, and some of the best stories to tell later on.
Banana boat rides
Banana boats are inflatable boats that can carry up to twelve people and resemble the shape of a banana. Most are even a suitable shade of yellow. Riders straddle the raft rather than sitting in the middle of it. The banana boat is then towed by a motorized boat, which can go as slow or fast as you'd like.
The fun part is zipping around on the water and clinging to the banana boat while the operator of the tow vessel does everything they can to knock you off into the water. All riders must wear a securely fitted lifejacket for safety, and captains are well-equipped to keep you safe.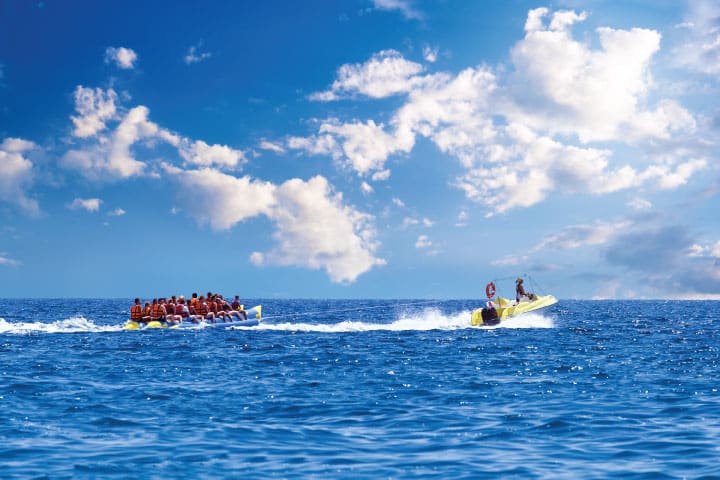 Waverunners/Jetskis
Personal watercraft (PWC) is perfect for touring, exploring, cruising, and camping. They are small, easy to maneuver, and can go just about anywhere you want. You can find a few waverunners for rent apart from boats.
Paddleboarding and Kayaking
Paddleboards and kayaks are slow, quiet ways to peacefully explore the ocean, shorelines, beaches, mangroves, rivers, streams, and bays. When you're in the St. Petersburg area, these are some great areas to kayak and paddleboard:
Weedon Island and Ross Island (they have mangrove tunnels and waterways specifically for kayak tours)
Riviera Bay
Lake Tarpon
Manatee River
Tampa Bay / Old Tampa Bay
Braden River
Fort De Soto Park
Egmont Key National Wildlife Refuge
Pinellas National Wildlife Refuge
Snorkeling & scuba diving in St. Petersburg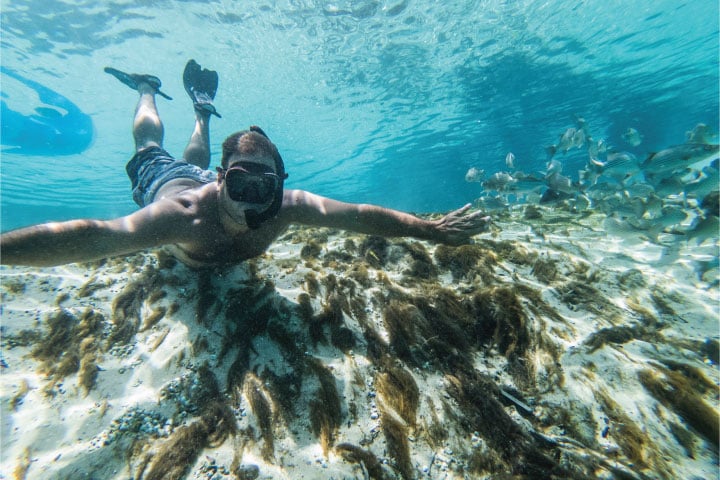 Ranked as the 5th Best Beach in the World by TripAdvisor, St. Petersburg has some of the best water for snorkeling and scuba diving in the United States. The best places to snorkel and scuba dive during your boat trip in St. Petersburg are:
Shell Key Preserve
Egmont Key State Park
Fort De Soto Park
Miguel Bay
Critical Bayou
Bean Point Beach
Passage Key National Wildlife Refuge
Sightseeing from a boat in St. Petersburg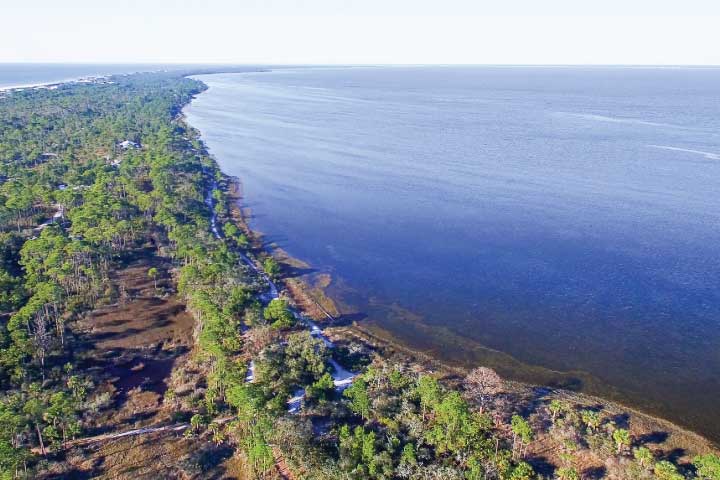 On the water, you can see landmarks and architecture with the added perspective of exotic sea creatures, coastlines, and oceanic flora. If you're planning on sightseeing from a boat in St. Petersburg, make sure to Weedon Island Preserve is a 3,190-acre preserve that sits on the western side of Tampa Bay, next to St. Petersburg, Florida. It has several paddling trails to take you through mangrove swamps and tunnels, giving you a glimpse of what Florida was like before colonization.
The South Paddling Trail is four miles long and shows you the best mangroves and seagrass flats. It's a great place to see several species of wading birds, like white ibises, reddish egrets, and many cranes and herons. You may have the pleasure of spotting a manatee, too!
Tampa Bay
Since St. Petersburg sits on the west side of Tampa Bay, the best way to see the city is from the bay. You can also see the skyline of Clearwater and Tampa from here. While here, you'll have access to several incredible marinas and waterfront restaurants that you can boat right up to.
Shell Key Preserve, Egmont Key National Wildlife Refuge, & Fort Desoto Park
Each of these three islands/keys are located near the mouth of Tampa Bay and is rich in abundant wildlife, history, and sweeping, picturesque views. A few of these sites have sunken or partially submerged forts from the 1800s. Incredible to see in real life. Some of these sites have designated turtle nesting grounds, so you may see sea turtles coming Book a boat and get your plans in order because St. Petersburg from the water is an experience you don't want to miss.
Explore water-travel destinations! Find your next trip at Destination Guides and other boating resources here.
About us
Boatsetter is a unique boat-sharing platform that gives everyone — whether you own a boat or you're just renting — the chance to experience life on the water. You can list a boat, book a boat, or make money as a captain.
List your boat & start earning an avg. of $20K yearly with Boatsetter