Spring break is a huge money opportunity for boat owners on boat-sharing apps like Boatsetter as they will see an uptick of requests from studying adults looking to cut loose from life's responsibilities, kick back and have some fun.
Designate a sober skipper
Check your life jacket stash
Practice raft-up skills
Mind your wake
Be smart with beginners
Keep a watchful eye
Have fun out there
There are many ways to have a memorable day on board while still being safe and responsible. Here's a look at seven best practices for boaters during spring break.
List your boat & start earning an avg. of $20K yearly with Boatsetter
1. Designate a sober skipper
The Sea Tow Foundation offers free resources to help make sure there's at least one sober skipper aboard every boat that hits the water. Sober skippers, like designated drivers on the roadways, pledge not to drink any alcohol or take any drugs.
As the foundation states: "Boating under the influence is the leading cause of fatal boating accidents, but it's 100% preventable." A sober skipper should be designated before a boat ever leaves the dock. That way, everyone on board can feel relaxed with the knowledge that a clear-headed driver is at the helm.
2. Check your life jacket stash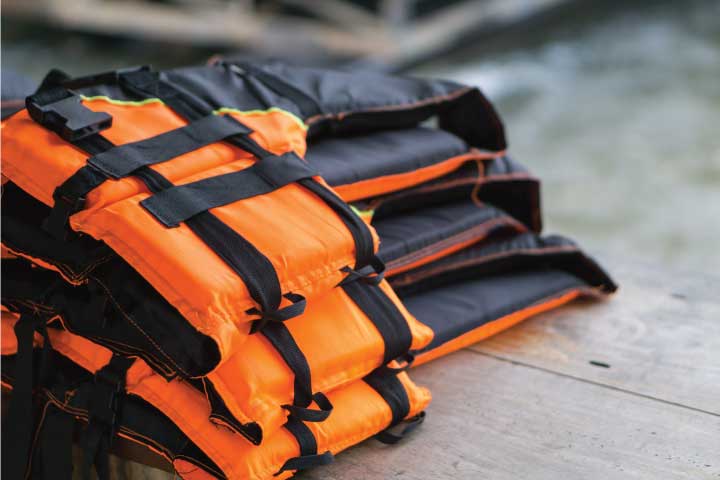 Spring break is the kind of time when more than a few friends may end up on board. Boaters who usually head out from the marina with one or two buddies may suddenly find themselves with a half dozen people or more filling the boat.
It's a must to have a life jacket—one that's in good condition—on board for each of those people. Don't want to buy the extra gear? That's fine, too: Life jacket loaner programs have been available through BoatUS since 1997. More than 575 sites around the country lend out about 140,000 life jackets annually. Grab a few to be safe.
3. Practice raft-up skills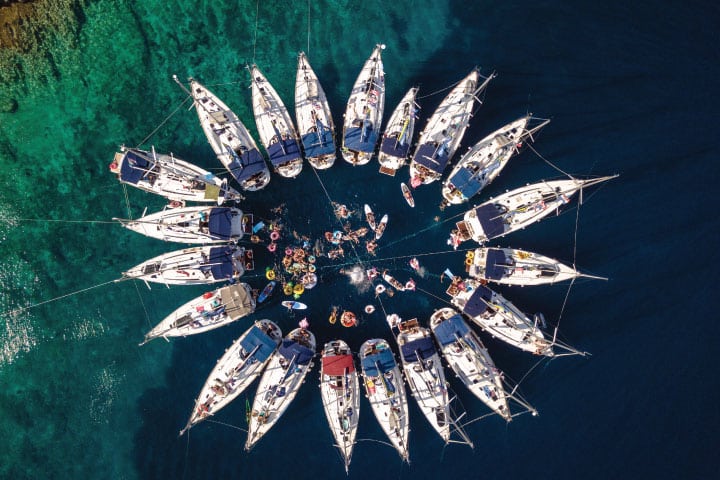 Raft-ups can be a huge part of the spring break experience. They happen when many boats gather in one location and tie up to one another, creating a giant raft of boats. (Think lawn chairs at a concert in a park, except its boats out on the water.)
Practicing line handling and fender skills will help any boater raft up easily and make up for lack of skills that other boaters in the area may have. By definition, a raft-up puts you in extremely close proximity to lots of other boats, so careful handling of everything from the throttle to the fenders is key.
4. Mind your wake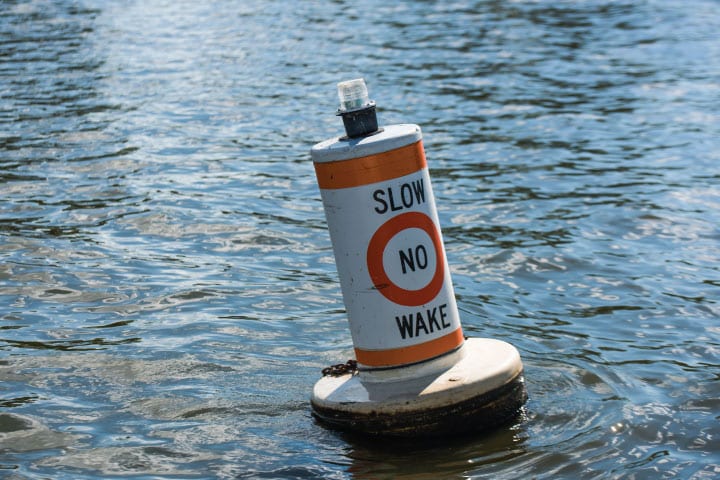 It can be all too easy to get caught up in the excitement of a great spring break day and forget to watch your speed when cruising through no-wake zones.
These zones exist to protect people, shorelines, marine wildlife, other boats, and property, and they are marked no matter whether you're boating on a river, a lake, or the Intracoastal Waterway. Respect the signs and pull back on the throttle.
Anyone on the water has the responsibility to do their part in keeping no-wake zones free of turbulent water. For a full view of the rules and regulations for our waterways, check out the United States Coast Guard: Rules of the Road.
Make sure to check out Boatsetter's very own Mind Your Wake.
5. Be smart with beginners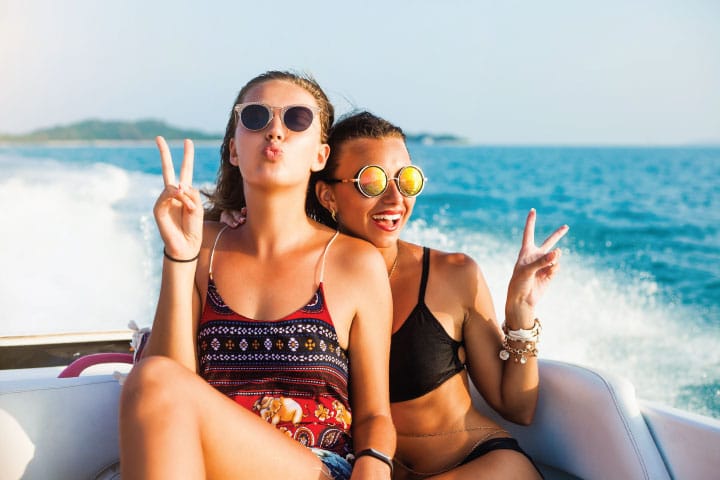 Spring break can also be a time when first-time boaters step aboard. People who've never been out on the water can find themselves in situations where they don't understand what's happening or what they're supposed to do.
Ensure any beginners on board receive a basic safety briefing about things like sitting down while the boat is underway, wearing sunscreen to avoid burns, and drinking water to remain hydrated.
The last thing anyone wants during spring break is an emergency that could easily have been avoided.
READ MORE: 4 Tips for Completing the Check-In Check-Out Process with Boat Renters
6. Keep a watchful eye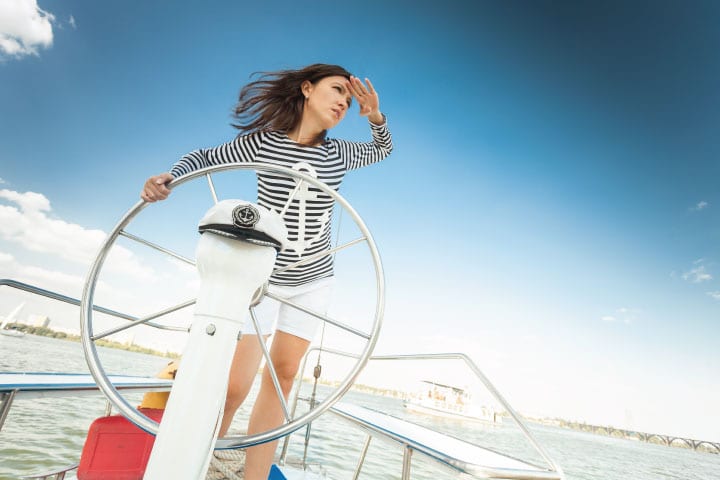 And speaking of first-timers: Expect to see first-time skippers out on the waterways during spring break, too. Folks who have never been at the helm tend to rent boats at this time of year to join in the fun.
That's great—the more, the merrier—but it also presents a challenge for experienced boaters who are more familiar with the rules of the road and general boating etiquette. Experienced skippers should watch in all directions and be prepared to react if a newcomer does something that creates a problematic situation.
7. Have fun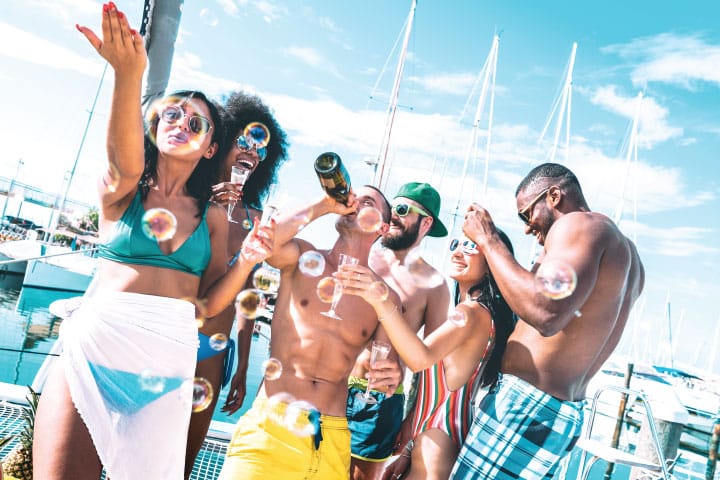 Being safe out on the water doesn't get in the way of fun—it adds to it. Everyone can relax, crank up the tunes, crack open a favorite cold beverage, and get down to the serious business of making memories.
Add some waterproof Bluetooth speakers, coolers full of food, and floating toys, and it's a party that can go all day and well into the night. Get out there on the water and enjoy spring break. It only comes around once a year!
About us
Boatsetter is a unique boat-sharing platform that gives everyone — whether you own a boat or you're just renting — the chance to experience life on the water. You can list a boat, book a boat, or make money as a captain.
List. Rent. Earn— Only at Boatsetter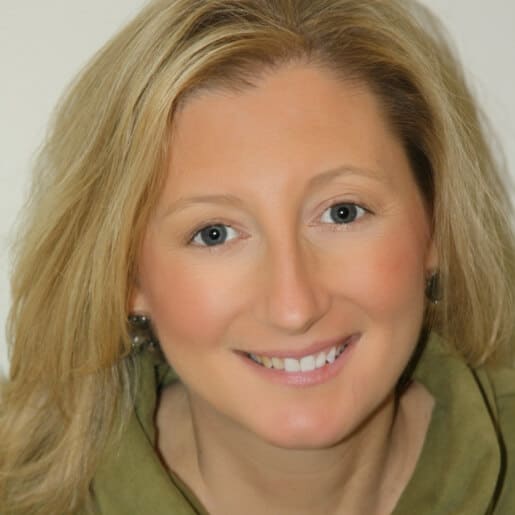 Kim Kavin has been on boats in more than 50 countries and islands, including in the Caribbean, Mediterranean, South Pacific, Indian Ocean and Southeast Asia. She grew up learning to steer a ski boat and Hobie Holder at her grandfather's lake house in New Jersey, and went on to spend time aboard everything from America's Cup racing sailboats to submarines. 
Kim is a PADI-certified scuba diver and animal lover who always enjoys a good, long look around a coral reef. Her award-winning writing and editing regularly appears in national marine magazines and on leading websites. In her early years, she was a Dow Jones editing intern and a graduate of the University of Missouri-Columbia School of Journalism. When she's not writing, Kim can usually be found hiking northwest New Jersey's beautiful park trails with her adopted shelter mutt, Ginger.