Massachusetts offers a wealth of attractions: from its vibrant cities, rich history, and stunning natural beauty. One of its biggest draws is a collection of lakes offering great outdoor recreation and water activities opportunities.
Between the calm waters and beautiful scenery, boaters of all experience levels can find endless adventure with their Boatsetter boat rental. To help you make the most of your time on the water, we've created a quick guide to the 5 best lakes in Massachusetts for boating:
Lake Cochituate
Lake Chaubunagungamaug
Lake Quinsigamond
Quabbin Reservoir
Otis Reservoir
Read all the way through for destination insiders.
Rent, Charter, Share— Only at Boatsetter
1. Lake Cochituate
Lake Cochituate is a 625-acre lake located in Middlesex County, Massachusetts. Its calm waters and peaceful atmosphere make this an ideal destination for new boaters looking to gain some experience on the water.
Boaters can enjoy a day on the lake water skiing, tubing, and wakeboarding, as well as more relaxed activities like kayaking and fishing. The lake has a healthy population of bass in addition to pickerel, sunfish, perch, and catfish.
The Cochituate State Park surrounds the lake. The beach area has lifeguards on duty in the summer, and several hiking trails offer stunning views of the lake and the surrounding landscape.
Location: Middlesex County
View all boat rentals near Lake Cochituate
2. Lake Chaubunagungamaug
Lake Chaubunagungamaug, also known as Webster Lake, is one of Massachusetts' most popular lakes for boating. The lake spans over 1,400 acres and has crystal-clear waters that are perfect for swimming, water skiing, and other water sports.
Boaters can launch from the public boat ramp located at Memorial Beach. Cruise around to some waterfront restaurants, explore the collection of small islands throughout the lake, or come View all boat rentals near Webster Lake
3. Lake Quinsigamond
Located in Worcester County, Lake Quinsigamond is an ideal lake in Massachusetts for boaters who enjoy a lively, bustling atmosphere. In addition to recreational boating, the lake is known for hosting a variety of water sports.
Pro Tip: Rowing is the most popular water sport on Lake Quinsigamond, with competitive sailing coming in at a close second!
Anyone on these waters can enjoy traditional recreation, like tubing, water skiing, and wakeboarding, and enter competitions throughout the year.
If you're a more laid-back type, you can enjoy swimming and sunbathing at several beaches along the shoreline.  Picnic areas and hiking trails also make for enjoyable lakeside activities.
Location: Worcester County
View all boat rentals near Lake Quinsigamond
4. Quabbin Reservoir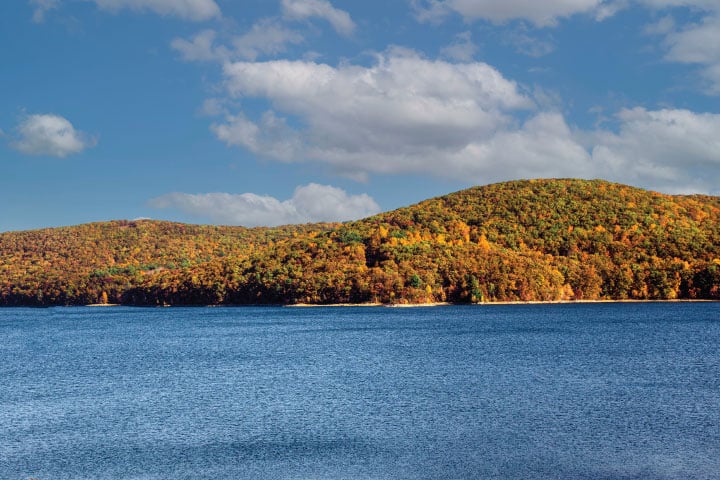 Spanning over 25,000 acres, Quabbin Reservoir is the largest inland body of water in the state, making it a must-visit lake for boating in Massachusetts. As a protected area, there are rules and regulations boaters must follow. Motorized boating is prohibited on the reservoir, which makes for a serene atmosphere and calm waters, perfect for kayaking, canoeing, and other non-motorized water sports.
Coves and inlets dot the shoreline, offering plenty of opportunities for exploration and a variety of vantage points to take in the surrounding forests, hills, and wildlife.
Anglers can fish for trout, salmon, and bass, among other local species. And boaters can enjoy hiking trails and scenic overlooks when they come ashore.
Location: Hampshire & Worcester Counties
View all boat rentals near Quabbin Reservoir
5. Otis Reservoir
Otis Reservoir is a beautiful lake located in Berkshire County that offers a variety of boating opportunities for new and experienced boaters alike. Vessels can launch from a public ramp at Tolland State Forest, which also offers campgrounds, hiking trails, and public beaches.
Known for its calm waters, visitors often take in the breathtaking scenery surrounding Otis Reservoir from a kayak, canoe, or paddleboard. This is also a great spot to bring your fishing friends, as anglers have luck catching bass, pickerel, perch, catfish, and trout.
Location: Berkshire County
View all boat rentals near Otis Reservoir
Whether you're looking for a relaxing day on the water, an adrenaline-fueled adventure, or a chance to catch a big one, the great lakes in Massachusetts will suit your needs. Ready to make the most of your Massachusetts boating adventure with a Boatsetter boat rental?
Explore water-travel destinations! Find your next trip at Destination Guides and other boating resources here.
About us
Boatsetter is a unique boat-sharing platform that gives everyone — whether you own a boat or you're just renting — the chance to experience life on the water. You can list a boat, book a boat, or make money as a captain.
List. Rent. Earn— Only at Boatsetter