You'll find the picturesque gem, Lake Gaston, tucked along the border of North Carolina and Virginia. Lake Gaston is an intimate destination, spanning 34 miles with 350 miles of shoreline, perfect for new and experienced boaters alike.
To help you make the most of your time on the water, we've created a Lake Gaston boating guide. So, whether you're a beginner boater or a seasoned sailor, Lake Gaston is the perfect backdrop for an unforgettable adventure.
Post summary:
Things to do by boat on Lake Gatson
Lake Gatson water activities
Lake Gatson fishing
Things to do near Lake Gatson
Things to do by boat on Lake Gaston
It's no secret that Lake Gaston is best experienced by boat. You can take your time cruising around the lake, explore the hidden coves and secluded islands, or wander down one of the runoff creeks. And if you'd like to pick up the pace, zip around on a motorboat or jet ski!
When you're ready for a bite to eat, dock and dine at The Pointe at Lake Gaston, a waterfront restaurant with a casual atmosphere and delicious seafood menu.
If you find yourself on the north end of the lake, you can sail under the Roanoke River Bridge and check out Roanoke River. Roanoke River is home to numerous campgrounds, wildlife areas, and islands – perfect for an escape into nature.
Boat access
Various marinas and landings allow boaters to access Lake Gaston. You can launch from Summit Landing or the Salmon Landing Boat Ramp on the southern side of the lake. Southpointe Marina and Overby Marina Sales and Service on the southern side and Washburn's Marina and Lake Country Marine LLC on the northern side offer boat repair, supplies, and parts.
Need a guide on launching a boat? We've got you.
Lake Gaston water activities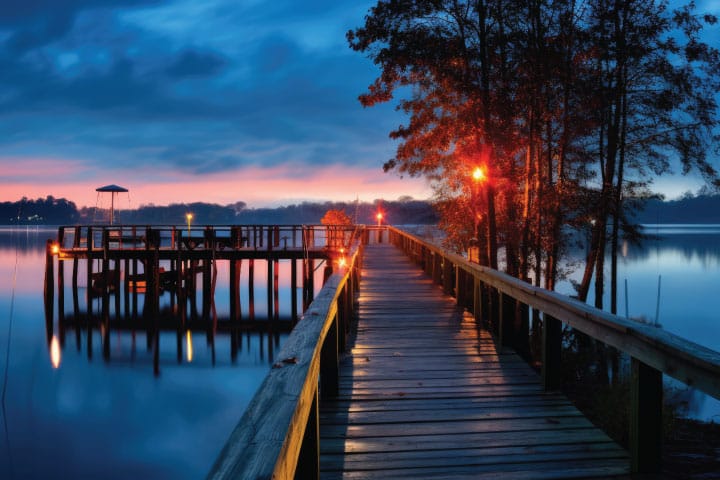 While exploring Lake Gaston by boat is a must, don't be afraid to get your toes wet. Swimming, diving, paddle boarding, wakeboarding, kayaking, and other water activities are all welcome on Lake Gaston. You can navigate the lake at your own pace, immerse yourself in the tranquil scenery, and savor the gentle rhythm of the water beneath you.
Lake Gaston fishing
Anglers can cast a fish by boat on Lake Gaston. The lake is well-known for its calm atmosphere. Watch as the sun bounces off the water and listen for soft ripples as fish surface.
The lake's diverse ecosystem boasts a variety of fish species, including largemouth bass, striped bass, crappie, and catfish. And between open water and quiet coves, shallow channels, and deep wells, Lake Gaston's structures offer an abundance of habitats for fish and a bounty of opportunities for you to practice and adapt your techniques.
Things to do near Lake Gaston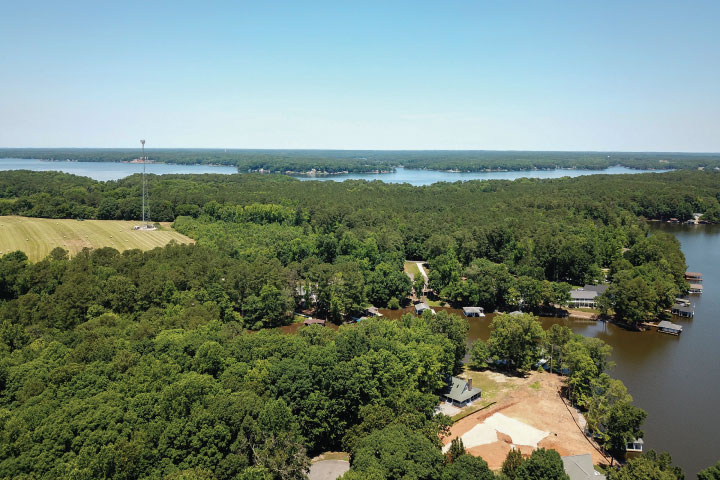 Lake Gaston's allure extends beyond its shores. The Lake Gaston Winery and Rosemont Vineyards and Winery welcome you to ignite your taste buds by sampling locally produced wine with flavors from the heart of the region. Tours and tastings are the perfect way to stretch your legs and unwind.
Medoc Mountain State Park and Occoneechee State Park are the perfect way to experience nature up close. Lace up your boots and hike through dense forests, along winding streams, and up to breathtaking overlooks.
Travel back in time with a visit to the nearby Halifax Historic District, where you can walk down streets lined with preserved colonial-era buildings and learn about the town's role in American history.
Boating on Lake Gaston
Whether you're seeking relaxation, an adrenaline-pumping adventure, or a chance to connect with nature, Lake Gaston has it all. Start planning your next Lake Gaston boating adventure when you book a Boatsetter boat rental.
Explore water-travel destinations! Find your next trip at Destination Guides and other boating resources here.
Click here to learn more.
About us
Boatsetter is a unique boat-sharing platform that gives everyone— whether you own a boat or you're just renting — the chance to experience life on the water. You can list a boat, book a boat, or make money as a captain.
Rent, Charter, Share— Only at Boatsetter