You say you want to rent the best center console boats, ones that are lavish and luxurious? Us, too — and plenty of today's fishing machines are rife with comfort features and luxury perks that will help make your day out on the water spectacular. But naturally, some models are more opulent than others. 
When you're searching for a boat that even the most affluent anglers will find accommodating, be sure to check out these top 10 picks for luxury center consoles:
Avalon GS 23 Center

Chris-Craft Catalina 30

Finseeker 200 CC

Freeman 42LRa

Grady-White Canyon 326

Phenom 37

Pursuit S288

Scout 255 LXF

Valhalla V-55

Yamaha 222 FSH Sport E 
Rent, Charter, Share— Only at Boatsetter
1. Avalon GS 23 Center Console Fish
You probably didn't expect to find a center console pontoon boat front and center on this list, but the Avalon GS 23 Center Console Fish certainly fits the bill when you're looking for luxury. It features four pedestal-mount fishing seats plus a Avalon Pontoons to learn more.
2. Chris-Craft Catalina 30
Today's Chris-Craft models are utterly dripping with luxury, and from the moment you step aboard a Catalina 30 you'll be impressed. The Visit Chris-Craft to learn more.
3. Finseeker 200 CC

Can a boat just 20 feet long really deliver luxury? While any center console this small can become uncomfortable in rough conditions, if you leave the dock on a Finseeker 200 CC when the weather is nice, you'll realize the answer is yes. 
The helm features a swing-down bolster leaning post, and the Visit Finseeker to learn more.
4. Freeman 42LR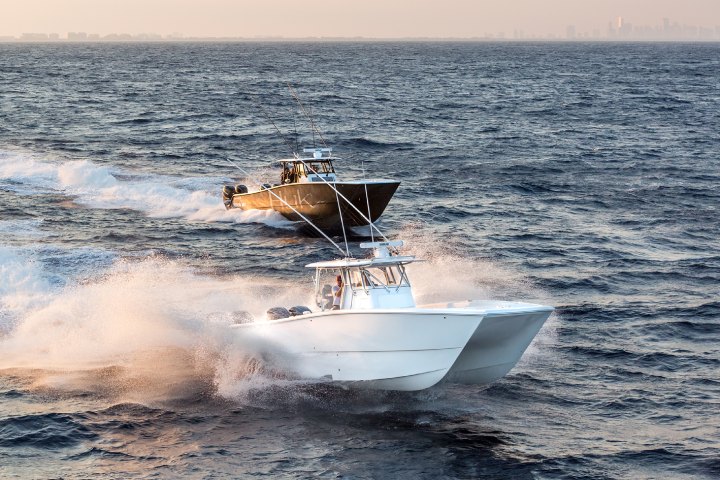 The best thing about power catamarans is the ride, and if you don't like being jostled around as you ride across the ocean, very few boats will tempt you like the Freeman 42. It's smooth as silk in a chop and shockingly comfortable in big oceanic waves. 
Sunbathers will love kicking back on the forward console lounger, anglers will love the massive Freeman Boatworks to learn more.
5. Grady-White Canyon 326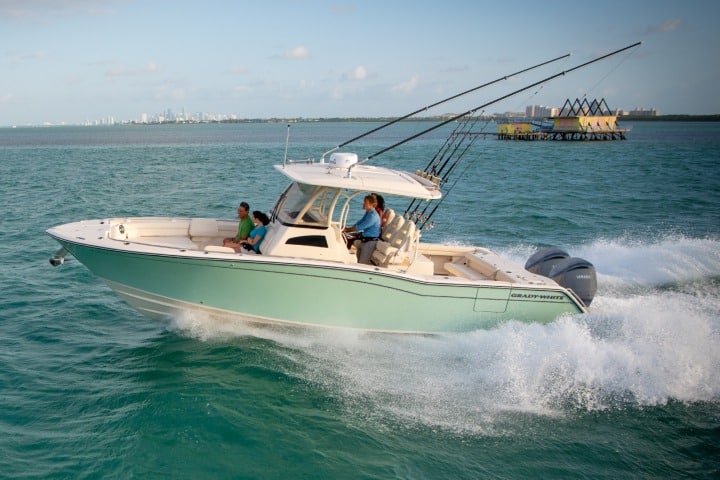 From the triple-wide flip-up bolster helm seating to the fold-away bolstered backrests in the bow, this boat has comfy spots where up to a dozen people can kick back and relax. 
Tunes drift out across the water courtesy of a Bluetooth stereo system with six LED-lighted speakers. When you step down into the console head compartment, you'll discover a composite cherry and holly sole. Plus, when climbing back up on the swim platform after a dip, note that you can rinse off with the Grady-White Boats to learn more.
6. Phenom 37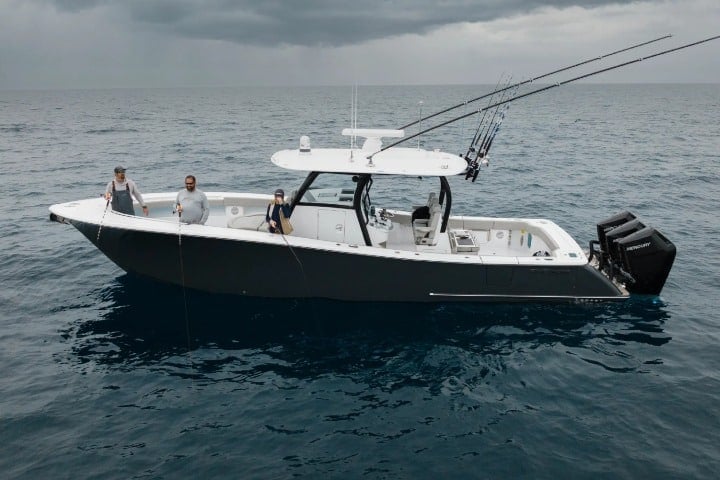 Phenom is a newcomer to this brand, just introduced to the boating world in the past year, but its founders have decades of boatbuilding experience and expressly developed this new boat to be the pinnacle of luxury in a center console. 
The double-wide forward chaise lounge has diamond-stitched upholstery, arm rests, and is contoured; the bow cocktail table rises electrically up from the deck at the press of a button; and inside the air-conditioned console, there's a six-foot berth that converts into a settee. The boat also comes standard with a Seakeeper 3 gyroscopic stabilization system. 
Perhaps most unusual of all, the livewell is armed with a pressure sensor and programmed with a customized algorithm that always keeps the pressure at 0.1 psi, to ensure that your baits stay comfy. Yet, water never sloshes out of the top.
Visit Phenom Yachts to learn more.
7. Pursuit S288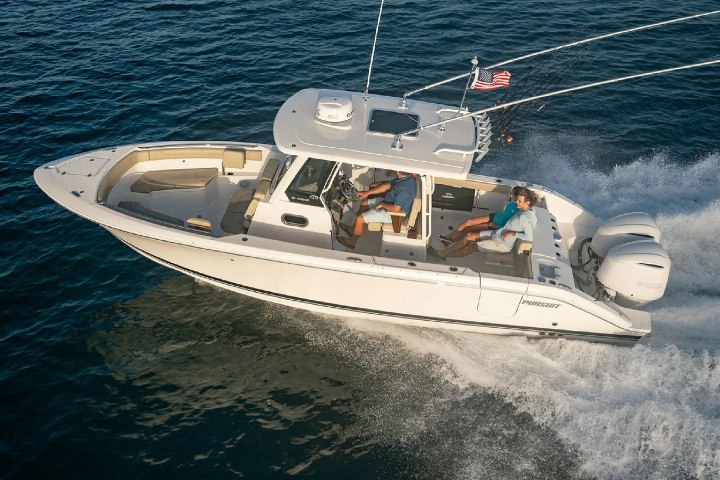 Pursuit has always been known for building top-tier boats with heaps of luxury, and the S288 fits squarely into that mold. It has all the plush seating you'd expect, and it's mesh-backed Dri-Fast foam so those seats won't get you wet. 
The boat also has two luxurious stand-outs: a forward-console compartment with an oversized door that makes it easier to enter the head compartment, and fold-down aft-facing seating on the back of the leaning post, which matches up with the fold-down transom seat to create a social zone where guests can sit facing each other as they chat.
Visit Pursuit Boats to learn more.
8. Scout 255 LXF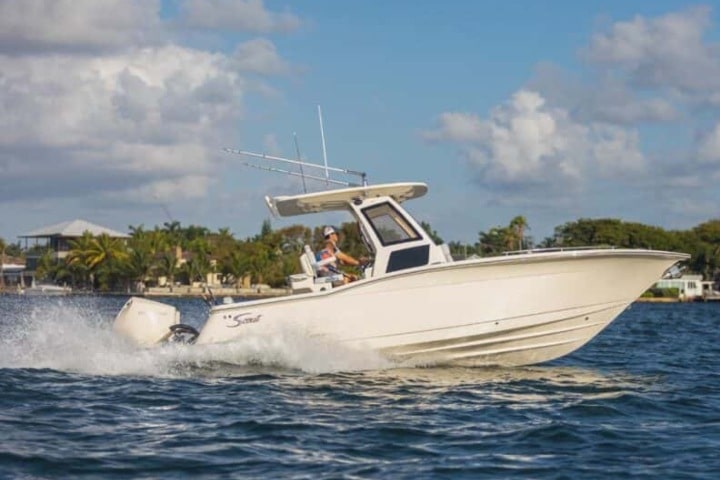 The 255 is the smallest in Scout's LXF luxury center console Visit Scout Boats to learn more.
9. Valhalla V-55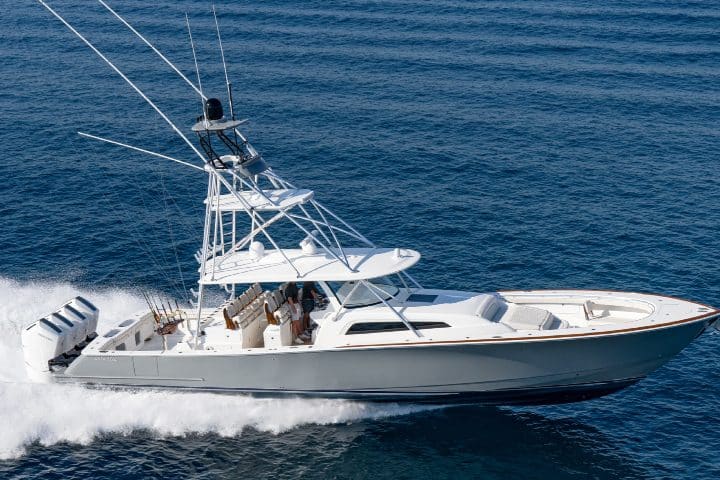 If you're searching for the most luxurious and opulent center console, it may well be the Valhalla V-55. Not only is this boat so big it qualifies as a center console yacht, it also has all the hallmarks of utter excess. 
Weighing in at almost 50,000 pounds fully loaded and carrying an eye-popping 3,000 horsepower on the transom, the V-55 has not just a cabin in the console but a cabin with a private stateroom, salon, separate head and showers, and a Valhalla Boatworks to learn more.
10. Yamaha 222 FSH Sport E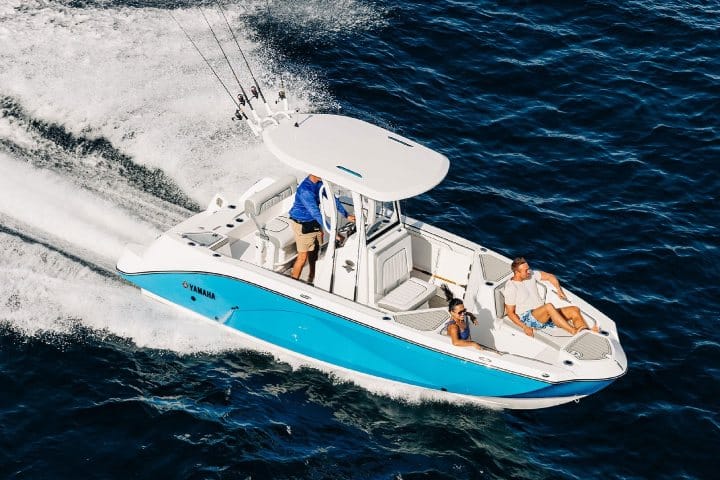 Jet boats are favored by some who enjoy both watersports and fishing, and Yamaha's 222 FSH Sport E is one of the few jet center console models that can be considered luxury craft. 
The E series is Yamaha's top-of-the-line, and the 222 FSH Sport has a bow cockpit with seating that's comfortable when facing forward or the center of the boat, with a removable cocktail table that fits into a receiver mount.
Visit Yamaha Boats to learn more.
Are there other luxury center console boats out there which are worthy of your attention? Absolutely. But thanks to their different attributes and accessories each of these top 10 picks delivers a level of luxury that's hard to beat. Rent one of our luxury center console boats for the day; we bet you'll agree.
Check out the hottest boats in the market at Boat Types, and make sure to scroll through Boat Guides to find your next boating destination. 
About us 
Boatsetter is a unique boat-sharing platform that gives everyone — whether you own a boat or you're just renting — the chance to experience life on the water. You can list a boat, book a boat, or make money as a captain. 
List your boat & start earning an avg. of $20K yearly with Boatsetter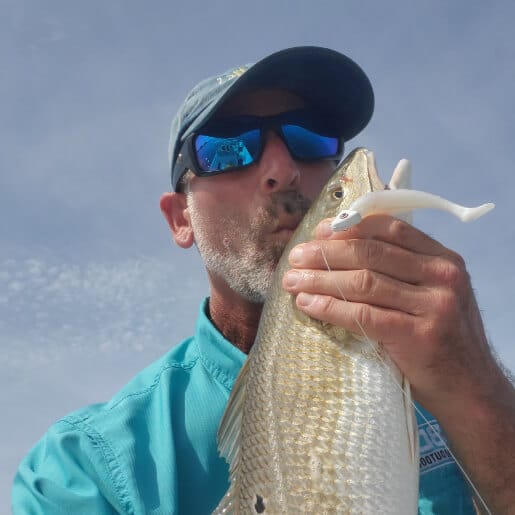 With over three decades of experience in marine journalism, Lenny Rudow has contributed to dozens of boating and fishing publications and websites ranging from BoatU.S. Magazine to BDOutdoors.com. Rudow is currently the Angler in Chief at Rudow's FishTalk, he is a past president of Boating Writers International (BWI), a graduate of the Westlawn School of Yacht Design, and has won numerous BWI and OWAA writing awards.