While it's possible to start sailing on any size and complexity of boat, you might want to read through to get to know the best beginner sailboats. You may have heard the tales of well-to-do sailors buying 50-footers as their first boat. It's not unheard of to start big, but it's not advisable.
Discover sailboats for rent near you— Only at Boatsetter
Learning to sail on a small boat rather than on a large one does two things: it immediately shows you the effect of every adjustment to sail trim and boat direction that you make, and it teaches you to be aware of the wind– where it's coming from and how it's shifting.
You want to start sailing on boats 12-25 feet with a tiller. Sloop-rigged (meaning having one mast and two sails) boats are simple to learn and control, which is why they're used in many sailing schools, as are cat-rigged boats with just a mainsail.
Key Characteristics of a Beginner Sailboat
Size
A small and agile boat will help you quickly learn what to do and not do. Look for a boat that's responsive but not twitchy and unpredictable.
Stable
A small and lightweight boat can get you in trouble in gusts. Look for a stable craft with a low center of gravity that forgives mistakes. Small catamarans like Hobie cats or the inflatable MiniCat or wide, flat-bottomed boat should help.
Simple
When learning to sail, focus on the basics of sail trim and shape. The boat needs just a few mechanical adjustments to eke out the best speed. Cams or cleats often replace winches for simple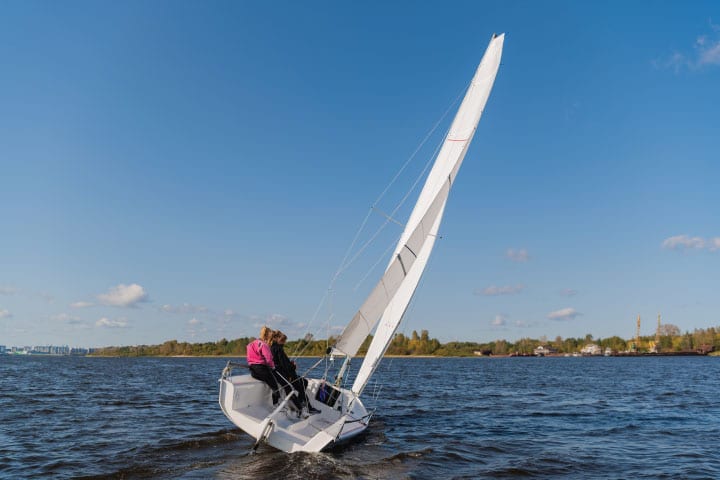 Trailerable
Small sailboats you can trailer will let you practice sailing on different bodies of water, giving you various experiences. Also, keeping a boat on a trailer rather than in a slip will save you money.
Scalable
Some boats, rigged simply to teach the basics, can step up later to carry larger downwind sails like spinnakers to help you perfect your craft.
Affordable
Don't rush out to buy the best and newest. Practice with a used boat, preferably 5-15 years old, which is old enough to not worry about dings and new enough to not need constant care.
One sure way to learn the ropes is by joining Boatsetter Academy at any one of its 16 locations. Through this 2-hour, hands-on, boating course, beginners like you will build confidence and become familiar with the basics of boating. And the best part: it's completely free!
READ MORE: Do Sailboats Have Motors?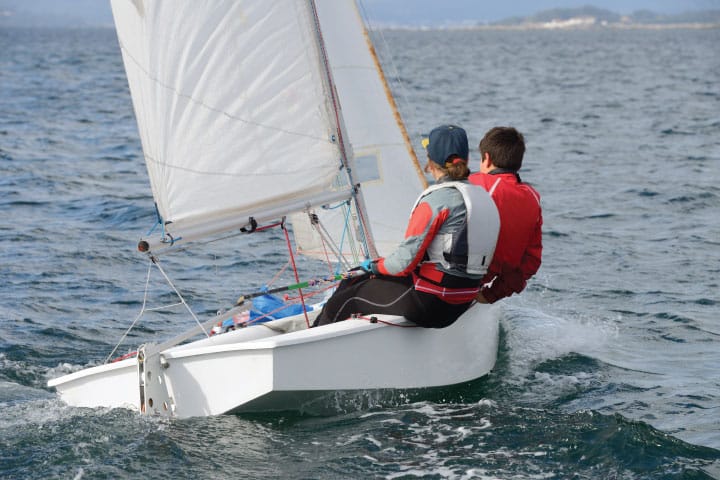 While there are lots of boats that meet the criteria above, here is our list of ten of the best sailboats for novice boaters:
Laser – used for teaching youth programs and yacht club racing
Sabot – a single-sail dinghy that's great for kids
Optimist – dinghy often used for single-handed sailing
Lido – an old design but still easy to find and quite durable
Capri – only 8 feet, these used to be staples in resort sailing fleets
Sunfish – with a single sail and a centerboard, nothing could be simpler
Catalina 22 and 27 – large cockpits have a safe feeling, and the boats are basically indestructible
Hunter 22 – an oldie but a goody, you can still find these models with private owners
Hobie cat – rotomolded, tough, and fast, these catamarans are great fun
MiniCat – inflatable sailboat with surprising versatility and lots of advanced adjustments for when you're ready to step up
Once you've mastered the basics, you can try a variety of sailboats by renting from a peer-to-peer (P2P) service like Boatsetter. With enough practice, you'll be on that 50-footer, sailing like a pro.
Check out the hottest boats in the market at Boat Types, and make sure to scroll through Boat Guides to find your next boating destination.
About us
Boatsetter is a unique boat-sharing platform that gives everyone— whether you own a boat or you're just renting — the chance to experience life on the water. You can list a boat, book a boat, or make money as a captain.
Rent, Charter, Share— Only at Boatsetter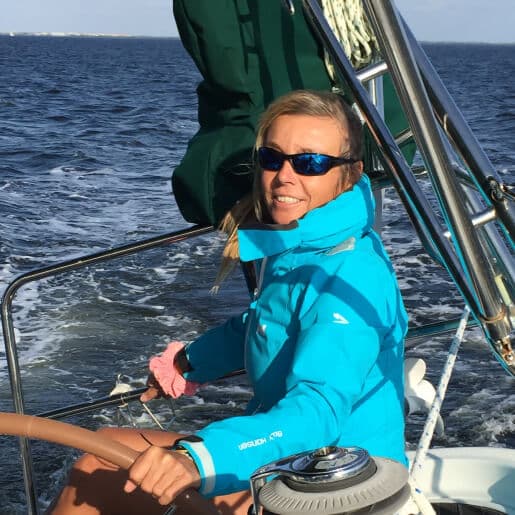 Zuzana Prochazka is an award-winning freelance journalist and photographer with regular contributions to more than a dozen sailing and powerboating magazines and online publications including Southern Boating, SEA, Latitudes & Attitudes and SAIL. She is SAIL magazines Charter Editor and the Executive Director of Boating Writers International. Zuzana serves as judge for SAIL's Best Boats awards and for Europe's Best of Boats in Berlin. 
A USCG 100 Ton Master, Zuzana founded and manages a flotilla charter organization called Zescapes that takes guests adventure sailing at destinations worldwide. 
Zuzana has lived in Europe, Africa and the United States and has traveled extensively in South America, the islands of the South Pacific and Mexico.