If you've dreamed about a quick one-day trip to the Bahamas, then peer-to-peer (P2P) boat rental might be exactly what you're looking for.
The Bahamas is a tropical paradise begging to be explored by boat. And from the east coast of Florida, the Bahamas is just 50 miles away. How could you not book a boat rental and cruise on down?
The 600-mile archipelago is made up of over 2,400 islands. That said, The Bahamas isn't really one destination but rather many smaller groups of islands— the Abacos, Exumas, Berry Islands, Discover South Florida boat rentals for your Bahamas trip
Best locations to launch from
If you're looking to make a trip from the US to the Bahamas by boat, it should come as no surprise the best state to do that from is Florida, given its proximity to the Caribbean. From there, the best jumping-off points are:
Best boat type for a Florida to Bahamas boat trip
Powerboats can cover the distance to the closest island of Bimini in two hours but the slower the boat, like sailboats, the more planning it takes to cross the Gulf Stream which can be either benign or seriously lumpy and unpleasant.
Make sure you have a weather window before setting out because when the wind from the north meets the current flowing from the south, conditions can be rough. Also, most of the Bahamian waters are quite shallow and full of coral heads so shallow draft boats are your best bet.
Best time of year to go to the Bahamas
The best time of year to visit the Bahamas is mid-December to mid-April. Remember that during hurricane season (June to November), there are no places in the Bahamas to hide from big winds. We strongly recommend planning your boating trip for the December to April window.
Pro Tip: If you're looking to kick back and relax, browse for boat rentals with captains. All captains on the Boatsetter Captain Network are USCG-certified.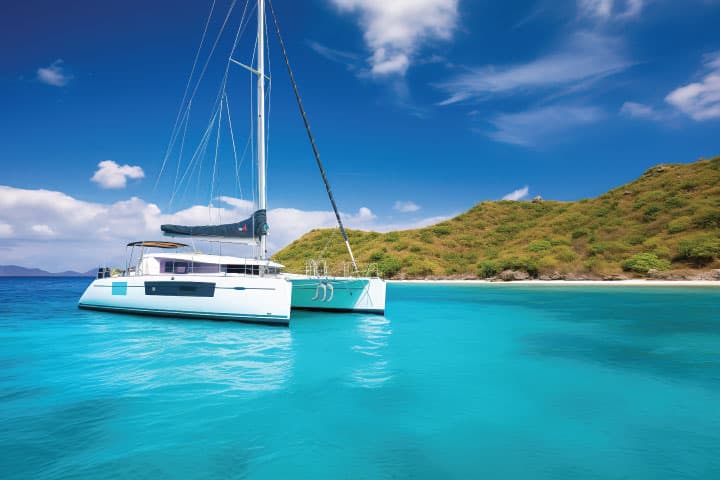 Island highlights
Many people cross to Bimini, rest, and then decide whether to go north to the Sea of Abaco or south to the Berry Islands and Exumas. The Abacos are a compact cruising destination protected from the wrath of the Atlantic Ocean by their outer island structure. They form a sort of saltwater lake where some cruisers hang out nearly the entire winter.
Little Harbor in the south is protected on nearly all sides and is a great place to explore caves or watch jumping rays and surfacing turtles. Farther north is Hope Town with its striped lighthouse and then Man-O-War Cay with a shallow harbor bordered by mangroves. Green Turtle Cay is home to the iconic Dollar Bar and is about as far north as most boaters venture when staying in the Abacos.
A larger territory is to the south in the Exuma Cays, a 37-mile crescent of nearly 400 isles. The Exuma Cays Land and Sea Park is a great place to snorkel, as are the many sunken airplanes left over from what used to be a busy drug trade in the 1980s.
About 80 miles southeast of the jumping-off point of Nassau is Big Major Cay, with pigs that swim up to your dinghy begging for treats. Thunderball Grotto nearby is a cave you can swim into but be sure to visit in the morning or the late afternoon to skip the crowds.
Boat trip tips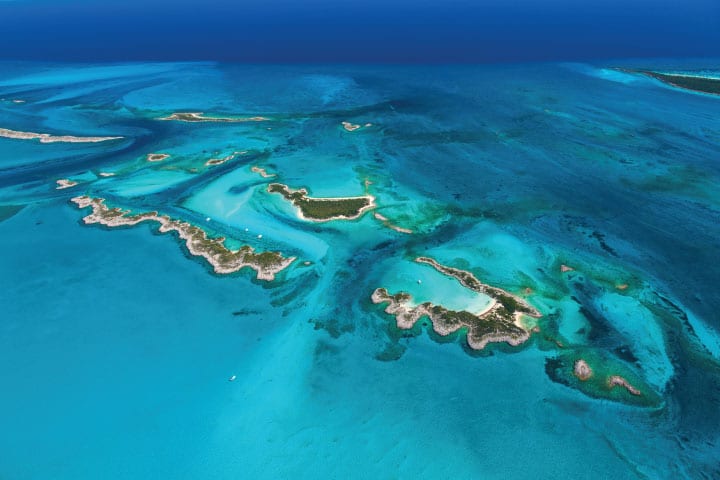 Have an accurate and current weather forecast before setting out. Mild southerly winds minimize the Gulf Stream waves, while a strong, cold northerly front will make the crossing miserable. Always make sure to check for a weather condition known as "The Rage." This phenomenon is when large swells from the Atlantic Ocean enter the Abacos waters, making everything uncomfortable.
Have the latest charting software in your plotter, but remember that markers and buoys often shift and may not be on station, and list a boat, book a boat, or make money as a captain.
Rent, Charter, Share— Only at Boatsetter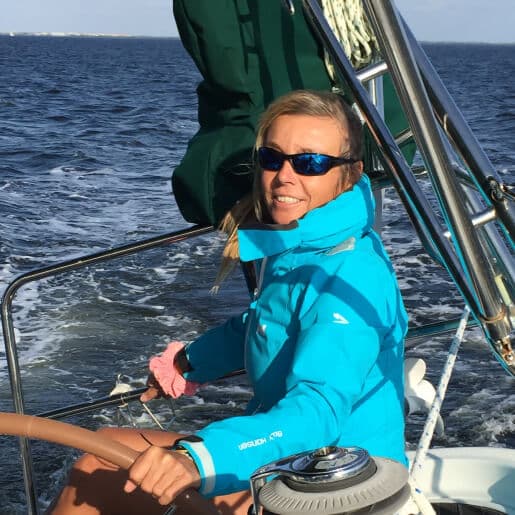 Zuzana Prochazka is an award-winning freelance journalist and photographer with regular contributions to more than a dozen sailing and powerboating magazines and online publications including Southern Boating, SEA, Latitudes & Attitudes and SAIL. She is SAIL magazines Charter Editor and the Executive Director of Boating Writers International. Zuzana serves as judge for SAIL's Best Boats awards and for Europe's Best of Boats in Berlin. 
A USCG 100 Ton Master, Zuzana founded and manages a flotilla charter organization called Zescapes that takes guests adventure sailing at destinations worldwide. 
Zuzana has lived in Europe, Africa and the United States and has traveled extensively in South America, the islands of the South Pacific and Mexico.