As the colder months roll in, sunny shores and picturesque waterways calls to those in search of an escape to paradise. Avoid the winter blues when you journey to these boating destinations, where the sun doesn't fail to shine bright and beautiful. In this post, we'll dive into the top five winter-sun destinations in the US. So, if you're seeking sun-soaked adventures, and an excuse to stay on the water in the winter months, then you're in the right place:
Biscayne Bay, Florida

Charleston, South Carolina

Lake Havasu, Arizona

Pensacola, Florida

San Diego, California
Rent a boat & chase the winter-sun—Only at Boatsetter
1. Biscayne Bay, Florida
Miami's Biscayne Bay emerges as an enchanting winter-sun destination, where idyllic conditions unite with a vibrant culture of luxury and release. Winter in Miami provides a mild and dry climate, with daytime temperatures resting comfortably between the 60s and 70s, making it a perfect time of year to set sail under the sun.
Biscayne Bay fuses cityscapes with sandy shores and numerous islands, all set against a backdrop of crystal-clear waters. Boaters can enjoy snorkeling, diving, cruising, and other water sports. As a lively boating community, Miami offers an abundance of resources for visiting boaters, in addition to a diverse dining and urban scene.
Chase the winter-sun in Miami, FL
2. Charleston, South Carolina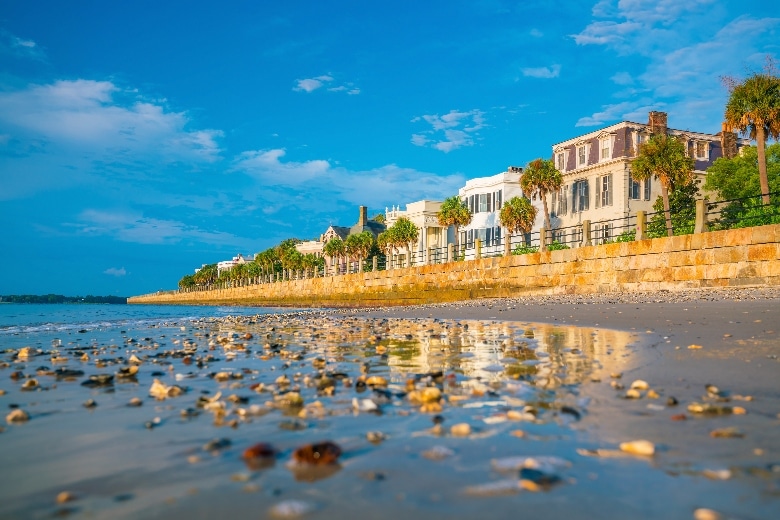 Charleston, South Carolina is known for its southern charm and culture. Boaters can enjoy a mild winter in this southern escape, with temperatures rarely dropping below freezing. Between picturesque waterways, marshes, and a dynamic coastal landscape, Charleston offers a unique destination for novice and experienced boaters alike.
The historic charm of the area extends to the nearby barrier islands, such as Sullivan's Island and Isle of Palms, where boaters can soak in the timeless beauty of the Lowcountry. Charleston Harbor is a gateway to this winter-sun destination, offering boaters opportunities to explore beautiful waterways, discover historic sites, and indulge in mouthwatering waterfront dining.
Chase the winter-sun in Charleston, SC
3. Lake Havasu, Arizona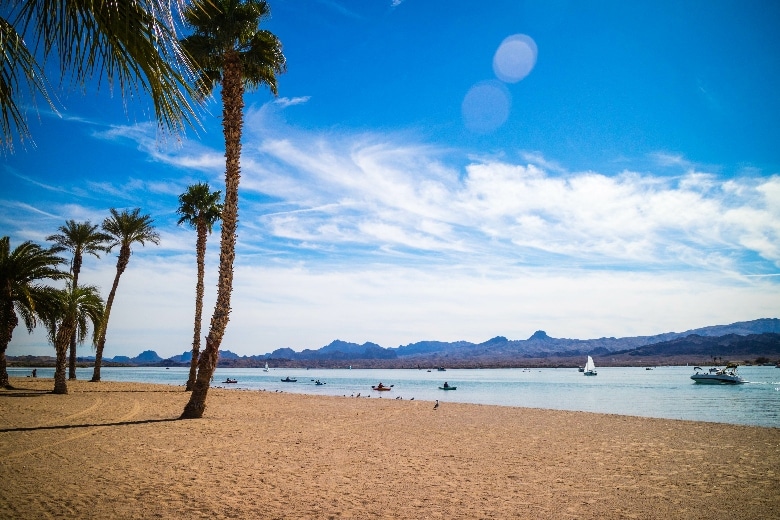 Lake Havasu is an unexpected yet captivating winter-sun destination. A break from the typical beach scene, boaters can enjoy freshwater conditions in a desert landscape. The city's mild and sun-drenched winters feature daytime temperatures in the 60s and 70s.
While Lake Havasu might not boast a coastline, it beckons with its awe-inspiring desert scenery, complete with towering palm oases, arid deserts, and a majestic backdrop of the San Jacinto Mountains. The striking contrast between cool waters and the arid terrain is a visual masterpiece, the perfect backdrop for boaters seeking a winter-sun destination.
You'll find yourself immersed in a world of watersports, leisurely cruises, and the warm embrace of pristine waters.
Chase the winter-sun at Lake Havasu, AZ
4. Pensacola, Florida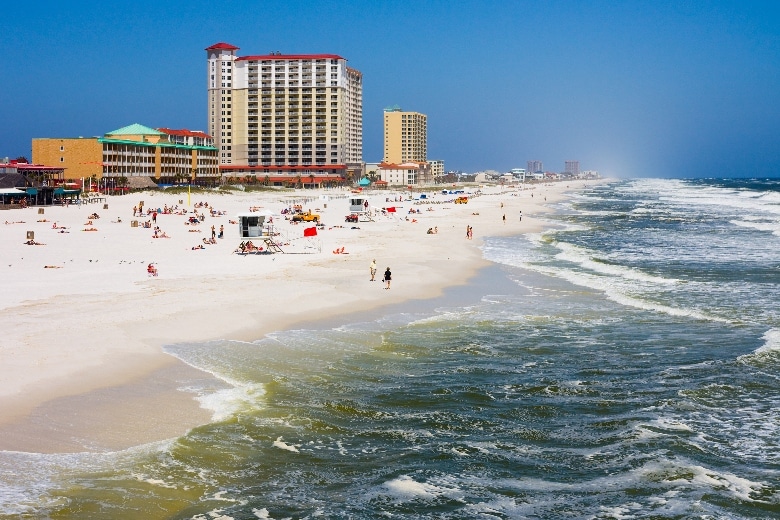 If you're searching for an alluring blend of natural beauty and cultural heritage, then Pensacola, Florida is an ideal winter-sun destination for you. Daytime highs range from the 50s to 60s during the winter, making this the perfect place to enjoy sun-kissed splendor for hours at a time. Since the city sits on the Gulf of Mexico, boaters have plenty to explore on the water. Cruise along Pensacola Bay and engage with the local marine life and coral reefs. Calm waters are ideal for sailing, kayaking, and paddle boarding.
If you're interested in learning about the area's history, visit the Naval Air Station Pensacola or the National Naval Aviation Museum. Simply walking the streets of Pensacola will expose you to well-preserved colonial architecture and landmarks, like the Historic Pensacola Village, with 19th century streets, historic homes, and roots in Spanish, French, and British history. 
Chase the winter-sun in Pensacola, FL
5. San Diego, California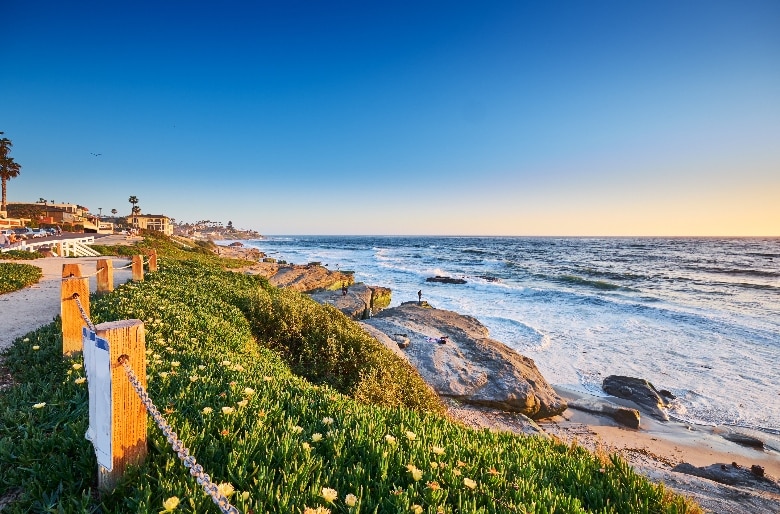 Between rugged cliffs, sandy beaches, and a magnificent bay gracing the city's shoreline, San Diego, California emerges as a quintessential winter-sun destination. San Diego Bay, Mission Bay, and the Pacific Ocean all offer such unique on-water experiences. As a vibrant waterfront town, San Diego hosts an abundance of marinas and boat-friendly amenities to ensure a seamless and enjoyable experience on the water.
Take in unforgettable views of the sunset over the Pacific horizon, island hop in Mission Bay, or come Chase the winter-sun in San Diego, CA
Whether you're a boater, explorer, sun chaser…
We hope our list of top winter-sun destinations helps you in your search for warmth during wintertime. Whether you favor coastal charm, desert beauty, or are seeking a trip with cultural significance and historic richness, we can assure you somewhere the sun is always shining. Especially true, if you're on the water. Click here to learn more about how you can book a Boatsetter boat rental for your next boating adventure.
About us
Boatsetter is the go-to app for boat rentals and on-water experiences. Whatever the adventure, we've got a boat for that—Set sail, start the party, go yachting, make your trophy catch, and hone your watersports skills! Download the Boatsetter app (App Store | Google Play). Make sure to follow @boatsetter on Instagram, and tag us in all your boat day pictures for the chance to be featured.
Rent. List. Share—Only at Boatsetter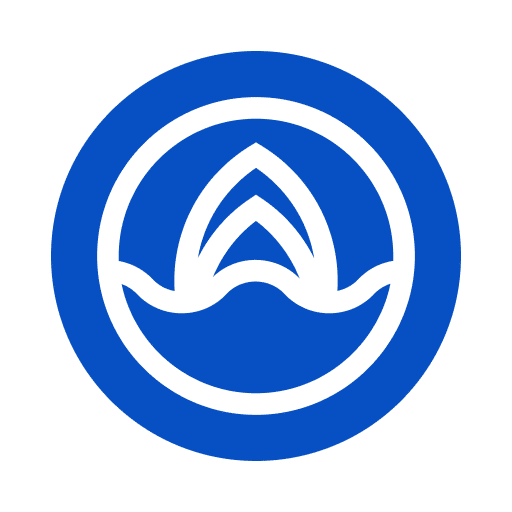 Boatsetter empowers people to explore with confidence by showing them a world of possibility on the water. Rent a boat, list your boat, or become a Boatsetter captain today.