[ad_1]


Interview with Hyde Sails' Ben McGrane
by Mark Jardine 29 Oct 04:00 PDT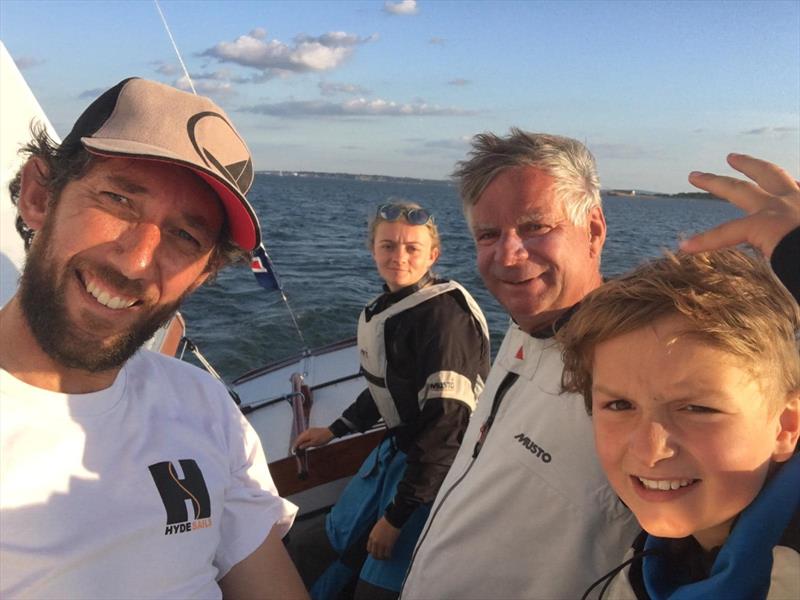 A Wednesday evening series win for Swallow racing in Hamble © Ben McGrane
Ben McGrane is a life-long sailor and champion at national and world level in many classes. With wide experience within the industry, he has recently joined Hyde Sails as the new One Design Manager. Mark Jardine caught up with him to find out more about his life journey in sailing and within the marine industry.
What was your first experience on the water?
The first I remember was dinghy sailing at the age of six or seven in a Mirror at Frampton on Severn Sailing Club, a small pond close the River Severn; that's where it all started for me. My parents, who had always raced, then took the decision to move to Chew Valley, just south of Bristol, which is a much bigger piece of water, so I was then fortunate to spend the rest of my childhood learning my race craft at Chew Valley Lake.
Were you competitive from the word go?
I think so. Sailing for me was always racing. My parents were involved in club racing and that's what I fell in love with and enjoyed. There are some great stories of having a crash with a Laser in my Mirror, getting a hole in it, then me pestering my dad to get the boat fixed so I could race again the next weekend. I always had the bug for racing, so for me it worked. My sister was never that interested in racing, so for her that approach didn't work.
I crewed until I was around eleven, where I learned a lot, and had to shift my expectations for a while when I started helming.
One thing that is very noticeable about your sailing, when looking at results from major events, is that you're just as happy crewing as you are helming. Do you think your early sailing as a crew influenced this?
Yes, I think you can learn a lot crewing and myself and Roz (my wife) are doing the same now with our kids, with Kiera now crewing for me in a Mirror. I think it's a good grounding and she was out the other weekend in a Feva at Netley with one of the instructors in 30 knots while I was postponed at Hayling with the 505's! Crewing is giving her a lot of opportunities and experiences at a young age. For me, moving from crewing to helming seemed like a natural progression, but I find myself happy to both helm and crew now.
Do you think now there is more of a recognition that not all sailors will be racers from the outset, and may just want to go on the water for the fun of it?
I think so. I think if you're around the right sailing clubs you can definitely see that sailing is just part of what's going on. A lot of it's the fun factor with children getting out on the water. I think there will always be those who are there purely to do the racing, always wanting to try and win or achieve their personal goals, but there is a much bigger focus now of participation. Sailing isn't the easiest route to getting on the water but the more people are on the water around sailing and who fancy trying some racing the more chance we have to get more sailors into the sport.
You're been in the marine industry as well for some time, which means you work, live and breathe sailing. Was it a conscious choice to work in the industry, or did you just fall into it?
I sort of fell into it. I went to university, did a 49er campaign, and for a few years after university was sailing full-time. It was during this time that I realised I wasn't enjoying my sailing anymore, and I took the decision to step away from it.
This partly came about as I was speaking with Richard Gibson, who was the head of sales at Selden Mast at the time, and they were looking for someone to come in on the technical side of their dinghy product. Effectively there was a role there that fitted, so I took that job, and that was fifteen years ago now.
Was it while you were working in the industry that you regained your love of sailing?
Yes it was. After my Olympic campaign there was probably a six month period where I didn't sail, and then I just started going to some regattas in RS800s and Laser 4000s, a bit of whatever was available, and there was a need for me to spend time on the water attending to customers' needs and developing product. I was making developments in classes like the Fireball, where some of the sailors at that time – who are still sailing them now – reminded me that it's supposed to be fun and it's ok to have a few beers after sailing. In that year I kind of remembered what it was all about, getting back into club racing and that whole side of things. My enjoyment came back.
Having seen various boats that you've sailed over the years, the setup always looks really good and the attention to detail is there. Is that boat preparation important to you?
I think if you're serious about getting to the front of a fleet then you have to make sure that your kit works as well it can and that you have a package that is capable of doing the job. So yes, I probably spend far too much time hiding in the garage fettling!
Your current role in the marine industry is with Hyde Sails, a brand which has a long history in one design classes. What attracted you to the role at Hyde?
It all came from a conversation with Nigel Grogan, the owner of Hyde Sails, who told me they were wanting to push themselves harder in the one design classes again. It was just a role that excited me. There's a lot of heritage in Hyde, and it's a brand that I grew up with and around, as a kid surrounded by 505s and Fireballs, the high performance fleets of that time that I saw at places like Chew, so the opportunity to be part of re-growing that side of the business was impossible to turn down.
You sail a wide range of boats, from the Mirror and XOD to the 505 and International 14. Is it this diversity of sailing that keeps you interested?
I'm not brilliant at just sailing one type of boat – I lose motivation if I'm sailing just one class. Also when you try different classes you learn from different people, different ways of sailing, and can transfer these skills across them. Then you also get to sail with and against different people which also grows your knowledge. I'm pretty fortunate with some of the people I've had the opportunity to sail with, people like Roger Gilbert who I've been sailing with for around fifteen years. It's been a great partnership where we've kept each other pushing forwards, while also having a couple of beers and keeping it fun. So yes, I like the opportunity to sail different boats with different people – that's what keeps it interesting.
With Hyde, you're not just making sails, as there are various other products in the range. With your huge experience it must make a difference when you're designing covers, toe-straps and other accessories which work across multiple classes, but use the best learning from each. Do you find your diversity of work within the industry and sailing useful?
We've got a very good team here. I think the size of Hyde Sails tends to pass under the radar, but there are 350 people in our loft, producing an incredibly high volume of product that has to be made to a high level of quality control, which gives us the ability produce extremely high quality and consistent product.
Also because we've worked across a large range of classes we do have a lot of knowledge here with a lot of people who can bring ideas to the table. While we have expanded the range of what we offer, we also make sure that any new items are the best that they can be for that application. We aim to innovate and make product that our customers will be really happy with.
With sails, a design has to be replicated perfectly every time, so that all customers have the same cut as the championship winning sail. It must be satisfying, coming to Hyde and knowing that when you put up a new sail it's exactly what you want, giving you confidence going into an event.
I've been fortunate to have been using Hyde Sails for a number of years anyway, in the Merlin Rocket for example, so besides being told what they were capable of, I already knew – having pulled various sails out of the bag, and putting them up as a customer – that there was a high level of repeatability. We have a lot of processes and checks in place which ensure that what goes out of the door is consistent…
[ad_2]

Read More:Interview with Hyde Sails' Ben McGrane