[ad_1]

With most of the world's commodity fisheries under some form of quota management, fishermen who want to increase profitability are looking at delivering the highest quality products to the markets — to do that, they rely on refrigeration.
In some cases, such as Louisiana shrimper Lance Nacio's AnnaMarie shrimp operation, refrigeration is as simple as putting a freezer unit on the deck of his boat. But in many fisheries, adding and improving refrigeration and freezers is an integral part of the vessel design process.
"We did that with Lance," says Kurt Ness, of Integrated Marine Systems. "We've done many other projects down there, working primarily with a company called Williams Fabrication in Bayou La Batre [Ala.]. We did some lobster and crab live systems, and we did a prechiller and other systems for an East Coast scallop boat built by Fleet Fisheries in New Bedford [Mass.]."
While many East Coast fisheries still rely on ice from shoreside suppliers to keep fish fresh, fisheries in the distant waters of Alaska are another matter, and according to Ness, that's where IMS puts most of its focus — primarily in the Bristol Bay gillnetter fleet and other boats, like seiners, trawlers and tenders that use refrigerated seawater.
"We offer a wide range of products from 3-ton through 60-ton self-contained RSW systems," says Ness. IMS works with a number of builders of Bristol Bay boats, such as Basargin Boats in Alaska, Mavrik Marine in Washington, and builders of larger craft, like Fred Wahl in Reedsport, Ore. He notes that while there is often a lot of back and forth with builders and owners to determine the best system for the boat, with other builders, it's plug and play. "We supply all the RSW for the beautiful seiners Fred Wahl builds," says Ness. "We just send them the equipment, and they do the install."
IMS also did a 10-ton titanium keel-cooled RSW system for the Haldrada, a Bristol Bay boat built by North River in Roseburg, Ore.
"The keel-cooled design is going to work great for jet boats that go into the shallows, due to the closed-loop condenser circuit, as opposed to raw water being pumped in — think of the debris that can be sucked up into the system via the condenser pump," says Ness. He points out that with the keel-cooled system, the condenser loop includes a "holding tank" of water that is then circulated through aluminum pipes — keel coolers on the bottom of the vessel.
For big boats, Ness suggests several IMS 60-ton systems. "If a boat packs a million pounds of product, for example, you can go with one massive system and risk something going wrong with it and then losing your tendering or fishing season, or go with several smaller systems and have the assurances of redundancy," he says.
IMS setups are powered with either electric, hydraulic or diesel drive.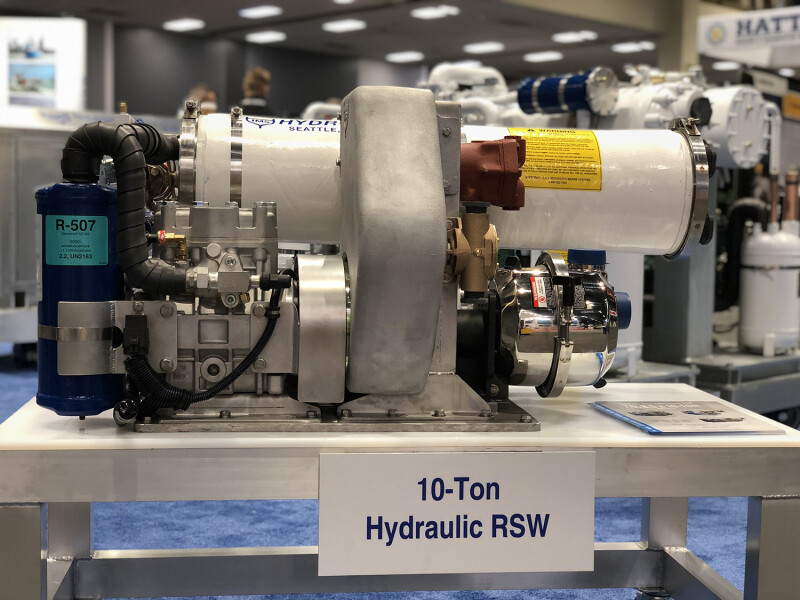 "The diesels are powered with a 3-cylinder Isuzu engine mounted onto the unit," says Ness. He notes that IMS usually sells its products on a self-contained skid for easy installation and reduced chance of leaks.
"We also provide standalone components for various reasons," says Ness. "Most commonly due to space constraints on the vessel."
[ad_2]

Read More:Just chillin': Designs that incorporate refrigeration innovations are helping vessels of