[ad_1]


Prepping for a first-time Bermuda Race
by Barbara Mack, Newport Bermuda Race 19 Nov 14:11 PST
June 17, 2022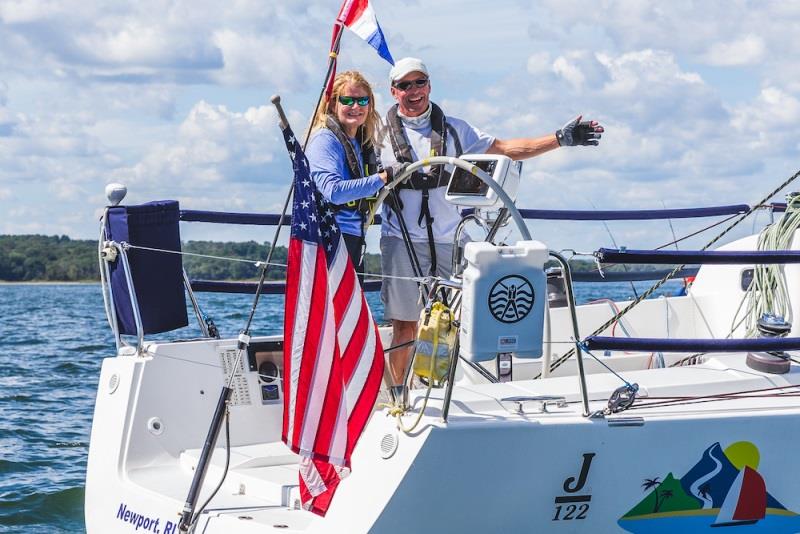 Mary Martin and Eric Irwin, owners of the J/122 Alliance 52770. © Bill Shea Photography
Time has passed since the 2018 Newport Bermuda Race, and despite the challenges of the pandemic, 160 boat captains have already committed to race in 2022—prepping their boats, forming teams, and racing locally if not farther afield.
Eric Irwin and Mary Martin, of the J/122 Alliance have done just that. We sat down with them recently to learn more about this journey – from their first sailing experiences to the world of offshore racing and their first crack at the Newport Bermuda Race in their own boat.
Mary learned to sail when she was about 12 years old, going out on a Pearson 26 with an uncle and her father along the Merrimack River and offshore near Newburyport, Mass. She went to Massachusetts Maritime Academy and after graduation began working at the Naval Undersea Warfare Center in Newport and bought a 30-foot Albin sloop, Absolut. Over the next 20 years, Mary spent time cruising in Narraganset Bay, on the Sakonnet River, and around Block Island.
Mary began racing in 1999 when a friend was putting a team together on her J/24 for the Rolex International Women's Keelboat Regatta. "That was my introduction to racing, and I got hooked on it right away," Mary recalls. "I really like the physical and mental challenges and the teamwork aspect; you just tend to learn about sailing more quickly when you have a racing perspective." Mary continued to race on J/24s and Rhodes 19s out of the Newport Navy Base. She then moved to a J/30 and later a J/109, sailing for many years with Bill Kneller, a friend and mentor with whom she still sails today. Mary continued to expand her J Boat experience racing on J/105s out of the Beverly Yacht Club in Marion, Massachusetts and a J/99 in Newport.
Eric's first sailing opportunity came through a friend who was in a catamaran race on Lake Erie the month before he started at the Naval Academy in 1982. At the Academy, he learned basic sailing skills, and he got involved in the Offshore Sail Training Program, completing cruises from Charleston-Bermuda-Newport on a Swan 44 and Edgartown-Boston-New York City on the Navy yawls that participated in the Statue of Liberty Centennial Parade in 1986. In the early 1990s while stationed in Groton, Connecticut, he started racing with the Mystic River Mudheads and subsequently became very interested in one-design racing in the 2000s, including J/24s and J/105s. One of his main mentors became Andy Berdon, who owned a J/109, Strider, followed by a Marten 49, Summer Storm. "I learned how to double hand with Andy, and that was key to my offshore racing development," he says. "We did several Stamford-Vineyard and Vineyard-Block Island races together, and I got a strong sense of how to push boat performance."
Through a friend of Mary's, Eric got into the Armed Forces Sports sailing program to compete in international sailboat racing. The Council of International Military Sports started after World War II to encourage friendly international competition, and has a vibrant racing program. With this opportunity, he set up a series of military racing teams to compete in J/24s in Bahrain, HPE25s in Rio de Janeiro, Ynglings in Norway, and 470s in Qatar. Through this work, he met many international coaches and distinguished sailors while he continued to develop his one-design skill sets and offshore experiences. In recent years, he has been in three Newport Bermuda races (2014, 2016, and 2018), the 2018 race being on Summer Storm. He also completed the Transatlantic Race in 2015 on Jacqueline IV, a Hinckley SW 42.
Mary and Eric met while racing aboard a J/109 in 2015 and have done numerous races together in one-design fleets and PHRF buoy racing, as well as near-shore distance racing. However, they both felt the pull to get a racing boat of their own and further their experience in the offshore world. During the summer of 2020, after numerous disruptions due to Covid, including the cancellation of the Newport Bermuda Race and many others, they began having a conversation about owning a boat that could be cruised and raced near/offshore.
It was a "Covid crazy" moment, they say. Mary had just sold her second boat and Eric had long dreamed of owning his own boat. Being able to share the costs, work, and joys of boat ownership was key to their conversation. This resulted in research and discussions with their sailing network to find a boat in the 38- to 41-foot range that could be highly competitive and still be a comfortable cruiser as well. By October 2020, they had settled on a 40-foot J/122, Alliance,a boat well-equipped both for fully crewed and double-handed offshore racing. Since they are both familiar with J Boats, the J/122 was a natural fit from design, setup, and performance perspectives.
Once they found the right boat, they had to choose a name. "I was looking back at Naval history and the names of sailing warships for which there were two contenders," says Mary. "I also found out that a Naval Academy sailboat named Alliance was in the 1979 Fastnet Race and they survived; they also won the Transatlantic race that year."
"Our diversity in our skills and sailing experience will be key to our success with Alliance Racing now," says Eric. "We have naturally migrated to dividing up the numerous duties and tasks required for owning, organizing, racing, and cruising Alliance and that is working well." Eric relies on Mary's boat ownership experience and values her great research skills to find various things needed for the program. "When we were looking for the right boat, Mary identified every boat we looked at and helped connect me to my sailing network to find out about each one," Eric recalls. In terms of maintenance, he likes working on the hull and mechanical systems and has the right experience for optimizing boat performance, while Mary focuses on the necessities for ensuring the quality of life onboard and studying the weather and routing details to translate speed into results. "Details matter in competitive racing programs, and we also build out the team skills sets through our choice of crew," they note.
Mary and Eric determined their choices for Bermuda Race crew early on, so they would have lots of time for team development and preparation. For fully crewed offshore races, a crew of 7 to 9 seems to be best on a J/122. Currently, they are planning on a crew of 8 and have tapped into their sailing network to recruit and develop the team members. In this process, they sought out a diversity of skills with electronic systems, driving, navigation, and trimming, as well as those with medical knowledge and offshore experience in general.
One of our program goals, they say, is to provide opportunity for younger sailors to gain the experience while leveraging youthful tenacity and have also worked to balance personalities amongst this exciting and engaged team. "The crew is essential in getting you to your first start," notes Eric, "and we've scheduled several forcing events, like the Stamford-Vineyard Race along the way to make progress." That race, in particular, resulted in several lessons learned by the team, ranging from water management, habitability, and trash management (minimizing and stowage), to defining and setting expectations for watch captains and watch routines. Additionally, Mary and Eric have adjusted their roles to ensure that they balance co-ownership, under way duties, and crew development.
There is no shortage of educational opportunities for the team, as many programs now have virtual offerings. "We are studying videos and webinars of all types about offshore racing, weather, and safety, such as the Storm Trysail Leadership forum and Safety at Sea webinars, First Aid/CPR, and North U courses from sail trim and tactics to weather, with great curriculum by Peter Isler," says Eric. They have also studied Dave Dellenbaugh's racing curriculum and have brought on Chelsea Carlson of Sea-Tactics as their…
[ad_2]

Read More:Prepping for a first-time Bermuda Race