[ad_1]

Walker does not pretend it's scientifically accurate, and a disclaimer stresses it isn't a replacement for therapy, but with wild illustrations and hilarious, approachable writing, he uses the power of metaphor to help people make sense of their often uncomfortable thoughts and emotions, and turn their head into a nicer, lighter place to live.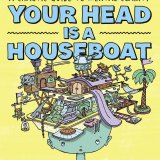 "What I lack in amygdala talk, I make up for hopefully in things that are memorable," Walker says.
In Walker's world, the houseboat is home to a host of colourful characters, from the five bosses (our competing needs and wants) and the grumpy sock puppets (our inner self-critic) to the freeloaders (others' opinions) and the wacky windshield (our cognitive biases and distortions). There is, of course, a lot of clutter (our thoughts), for which Walker provides practical journaling advice to make space.
He is one of many young Australians who are helping to change the way we talk about mental health, using relatable language and making it a normal part of conversation.
"There isn't a tonal shift now between talking about how your day was and how your mental health was. You can hear somebody in the same breath be like 'I went to the park, had a couple of beers, I also had a total panic attack'. As a young person you wouldn't blink at that sentence," Walker says. "[Mental health] doesn't have its own box and we don't have to pretend that we are super serious or super saccharine when we talk about it."
It's an approach that's working for other mental health-focused social media accounts, often started by Millennials, across Instagram and TikTok. Just for a taste, Sydney-based Zachery Dereniowski (@mdmotivator) has found 2.3 million TikTok followers, while US therapist Sara Kuburic (@millennialtherapist) has 1 million on Instagram and @selfcare4yu has more than 800,000.
Psychologist Kat Wyeth, 29, and psychotherapist Aimee Hudson, 28, started their podcast, The Psychology Sisters, in 2019, with an Instagram account now nearing 10,000 followers, mainly aged under 35. Their success led them to start a virtual clinical practice last year.
They say that while social media has its downsides, it's also been central to raising awareness of mental health issues, helping people feel less alone and encouraging them to seek support – and the pandemic has only reinforced that.
Wyeth and Hudson, from Sydney, have noticed a rise in people wanting to understand their mental state through frank, convenient and easy-to-digest information, often with a healthy dose of humour, too.
Hudson says: "Sometimes [the clinical approach] can be a bit daunting and having information put in a way that is relatable, normalising and easy to understand is really important."
And that, Wyeth says, also leads to a curiosity in people to learn not just strategies, but also why their mind works the way it does.
There are some risks. Hudson stresses that any advice posted online is general and can't replace therapy. Not to mention, poor quality information from unqualified users can be harmful.
But for the most part, the shift is positive, Wyeth says, and she's pleased that mental illnesses such as depression and anxiety are being destigmatised. The knock-on effect is that others, including personality disorders, OCD, ADHD, are now also getting more attention.
"There's certainly this momentum that I think we can credit a lot to TikTok and Instagram because people are sharing their own stories," she says.
Ashley de Silva, chief executive of youth mental health service ReachOut, encourages accounts that share mental wellbeing tips to use safe language and content warnings, and to provide pathways for further support.
ReachOut's channels are upbeat and colourful, regularly posting memes, illustrations, quizzes and practical advice.
Loading
"We seek to engage young people in a strengths-based way rather than presenting these issues as scary or shameful," de Silva says.
"I think we are seeing positive trends … however we can't ignore the fact that mental health stigma still exists and that many young people don't see the issues they are facing as help-worthy."
Make the most of your health, relationships, fitness and nutrition with our Live Well newsletter. Get it in your inbox every Monday.
[ad_2]

Read More:To make your mind a nicer place to live, think of it as a houseboat